Allianz Field - Project Information and Updates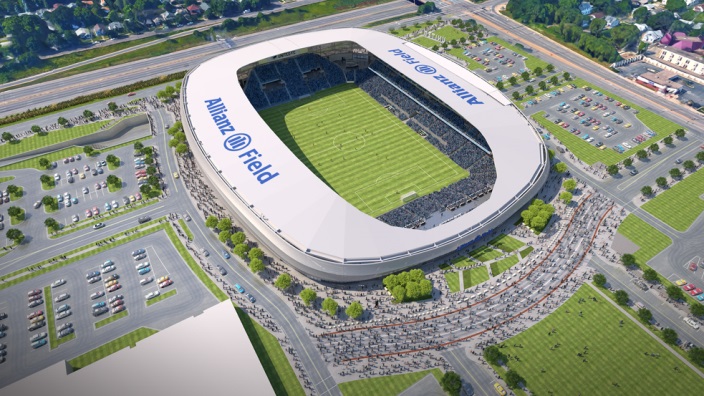 Photo courtesy of the Minnesota United FC.
Home of the Minnesota United MLS Soccer Team
Allianz Field will be the new home of the Minnesota United FC, an MLS soccer team. Located in the Midway neighborhood of Saint Paul, the 346,000 square foot facility will offer seating for nearly 20,000 fans, including 25 suites, 38 semi-private loge boxes, and four club rooms. Designed by Populous, the stadium will incorporate the latest amenities and technology while being sustainably designed to minimize environmental impact and energy usage. 
The stadium site comprises of 34.5 acres of redevelopment to create an urban village that includes retail, office, residential and public spaces. The City of Saint Paul contributed $16.1 million to the infrastructure and site improvements. 
Phase Details
Phase 1:           Public Infrastructure Budget $16.1 Million (City Public Funding)  -  Spring 2017 to Summer 2018
Phase 2:           Stadium Construction $150 million (Private Funding)  -  Summer 2017 to Spring 2019
The project is on track to exceed the workforce goals of 32% minority and 6% women worker participation, as well projecting to exceed the 25% Small Business Enterprise goal. At its peak, over 350 craftworkers will be on site on a daily basis to construct the stadium.
Construction Milestones
JULY 2017                             First Concrete Foundation is Poured
AUG 2017                              3 Acres of Kentucky Blue Grass Seed Planted in Colorado for Playing Field
NOV 2017                             Structure Begins to Take Shape as Steel is Put in Place
MAY 2018                             Exterior Translucent Fabric Installation Begins
SUMMER 2018                     Ceremonial "Topping Out" as Last Steel Beam is Installed
SUMMER 2018                    Installation of Scoreboard Begins
SUMMER 2018                    The First of 19,400 Seats is Installed
FALL 2018                            Grass Installed and is "Put to Sleep" for the Winter
SPRING 2019                       First Game Kicks Off in New Stadium. GO LOONS!
Business Inclusion Goals  – City of Saint Paul
Business Utilization goals are 25% of the overall project to local Small, Women, and Minority Business Enterprises (SBE, WBE, and MBE's).  This can be broken down further to 10% Small, 10% Women, and 5% Minority owned business participation. Businesses that count toward the goals are CERT certified, State TGB certified, or federal DBE certified.  Please see attached for list of current contractors and subcontractors.  See table below for actual business inclusion goals on a month to month basis.
Business Inclusion

 

Overall

 

Small

Woman

Minority

GOALS

25%

 

10%

10%

5%

July-18

30%

 

12%

12%

6%

June-18

29%

 

11%

11%

6%

May-18

28.5%

 

11.2%

11.4%

5.9%

April-18

29%

 

12%

11%

6%

Mar-18

28%

 

11%

11.6%

5.7%

Feb-18

27%

 

10%

12%

5%

Jan-18

27%

 

10%

11%

6%

Dec-17

29%

 

11%

12%

6%
Workforce Inclusion Goals – City of Saint Paul
Workforce utilization goals are 32% Minority and 6% Female in total project work hours.  For community members looking for job opportunities, please see attached Subcontractor Contact List.  
Workforce Utilization

 

Minority

Women

GOALS

32%

6%

July-18

31%

10%

June-18

31%

10%

May-18

31%

10%

Apr-18

32%

10%

Mar-18

33%

10%

Feb-18

31%

10%

Jan-18

31%

10%

Dec-17

32%

10%
Community Outreach Calendar
TBD
Other Reports and Publications
Links
Stadium Overview                            https://www.mnufc.com/stadium/details
                                                             https://www.mortenson.com/sports/projects/allianz-field
Live Stream                                        https://www.mnufc.com/stadium/stream