Adult Broomball
Leagues play on weeknights, beginning the week of December 12, 2022. 7 weeks of games,
Optional playoff entry costs $125. Playoffs will be held February 11-12, 2023.   
Levels offered:
Men's Upper (D+) and Lower (D),
Women's C/D
Coed D
Teams are not registered until payment is made in full. Accepted forms of payment: cash, sponsorship check (made payable to City of Saint Paul). Personal checks are not accepted.
*Teams with any player that does not live or work in Ramsey County will pay the non-resident fee of $50*
Refund Policy:
Before schedules are drawn: refund minus $25 administrative fee.
After schedules are drawn: refund minus $100 administrative fee.
First day of league: no refund given.
Registration Dates:
Priority registration (for returning teams) opens October 31st, 2022.
Open registration (all teams) opens November 7th, 2022.
Registration closes November 30th, 2022 or until all team spots are filled.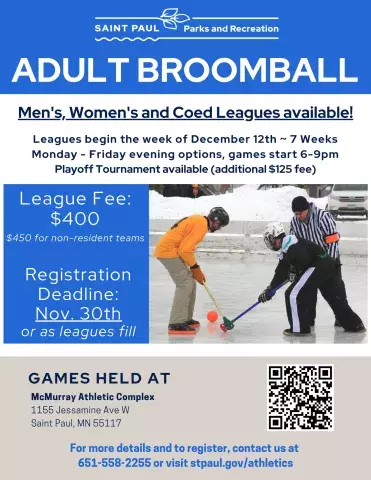 Roster Form - Rosters are due before first game - e-mail completed rosters to muni@ci.stpaul.mn.us