Moist Soils and a Dense Tree Canopy Make Wet Forests a Haven for Spring Ephemeral Wildflowers.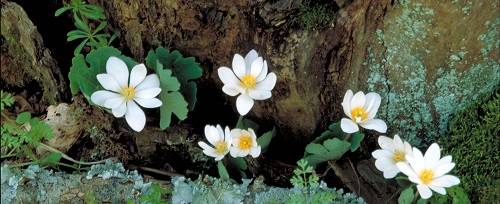 This area of the Como Woodland Outdoor Classroom is the wet forest plant community, modeled after low-lying hardwood forests along streams in southern Minnesota. This plant community is very similar to the terrace forest plant community, with moist soils and a dense tree canopy, but wet forests experience less flooding than terrace forests. The wet forest system was historically characterized by elms – American, red, and rock elms. Elm populations were drastically reduced by Dutch elm disease, a fungal disease introduced in 1961. Elm snags can often be found in forests and serve as a reminder of Dutch elm disease. Other important tree species in this plant community include sugar maple and basswood.
The wet forest is generally buffered from events such as fires, floods, and droughts. Light surface fires occurred about every 160 years, but these sites were protected from fire by moist soils and topography. This moist but well-drained soil is a happy medium for plants and shields them from the stresses of waterlogged roots and droughts except on rare occasions.
How Do Plants Find Light in a Dark Forest?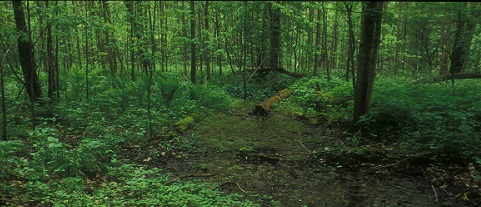 Sunlight is limited in this type of forest, so plants must be adapted to living with low-light conditions. Each layer of the forest captures the light that penetrates through the plants above. Very little light makes it to the ground past the well-developed canopy, subcanopy, and shrub layers of the wet forest.
One group of plants has a unique strategy to capture sunlight in this shady plant community. Spring ephemerals are wildflowers that quickly develop before trees leaf out in early spring, taking advantage of the sunlight on the forest floor. Ephemerals grow stems and leaves, produce flowers and seeds, and then die back, all before the forest becomes too shaded. These plants remain alive underground, but are dormant until the following spring.
What Good Are Rotting Leaves?
Without frequent fires or floods, decomposing leaves and other organic material make up the spongy duff layer on top of the soil. Plants take advantage of this nutrient-rich layer by establishing extensive root systems here rather than deep in the ground. Unfortunately, the duff layer is threatened by animals commonly regarded as beneficial: earthworms. All earthworms in Minnesota are non-native species from Asia and Europe. These invasive earthworms destroy the duff layer, causing a decline in the native tree seedlings and forest understory plants and decreasing the availability of nutrients in the system. Earthworms are spread mainly by humans dumping bait or moving soil, so the best way to contain them is to prevent these activities in undisturbed areas.
Photos