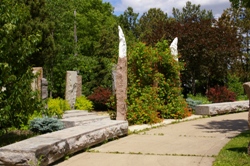 Artist Name: Craig David 
Media: stone, steel, concrete, garden plants
Date Created: 9/1/2004
Location: North High Bridge Park
History: This sculpture honors the Czech and Slovak immigrants and their families that have lived and worked in the West End of Saint Paul since the 1860s.  It incorporates historic salvaged materials including a baptismal gate from Saint Stanislaus Kostka Catholic Church and granite curbstones and pavers from city streets.  This piece illustrates several themes.  The pylons from granite curb stones and pavers identify the space and the park both as a gateway to the West End and a transition to a better life.  The baptismal gate honors the role of the church of Saint Stanislaus Kostka in supporting the community.  The figurative representation of the Czech composer Antonin Dvorak's opera Rusalka and his famous aria "Ode to the Moon" represent the importance of music in the life of Czech and Slovak people.  The opera unfolds the tale of Rusalka, the water-nymph, who, under a witch's spell, tragically leaves her underwater home.  This reference to the nocturnal water fairies of Slavonic folklore also refers to the Mississippi, whose overlook this sculpture adorns.  
David graduated from the University of Minnesota in 1976, with a Bachelor of Science in Art Education and received from the University of Oregon his Master of Fine Arts in Painting.  Presently he creates collaborative environmental site works, drawing on the culture of the people for whom he creates the piece.  He lives in the West Side of Saint Paul.