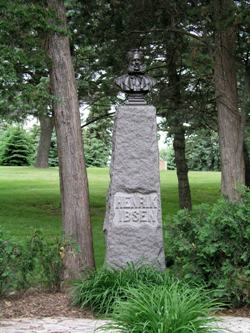 Artist Name: Jacob Fjelde 
Media: Bronze bust with dark brown patina; Base: Granite
Date Created: 1/1/1912 
Location: Como Park
History: The Norwegian artist, Fjelde, created this bust of Henrik Ibsen in a series of three.  These came from a casting he created while visiting the Norwegian poet and playwright in 1885.  Given to the city in 1907, the sculpture disappeared in July of 1982.  Eleven years later, Public Art Saint Paul and a group of Augsburg College Students discovered the bust in a Robbinsdale video store.  After much legal maneuvering and a wait to determine funding, the city restored and reinstalled the bust in 1999.  
Born in 1828 in Norway, Ibsen left home at fifteen to work as an apprentice pharmacist and to write plays.  His first plays were not well received at the time.  Nevertheless, he later worked at the Norwegian Theater in Burgen, assisting in writing, directing, and producing over one hundred forty-five plays.  In 1858, he married Suzannah Thoresen.  In 1864, he left to live in Italy, where he spent the next twenty-seven years.  He wrote his first successful play, Brand, in 1865.  While his plays stirred controversy, they also brought him long-desired financial stability.  He moved to Germany in 1868, where he wrote some of his more famous plays.  He died in Norway in 1906.  
Born in 1859, in Aalesund, Norway, Fjelde immigrated to America in 1887.  He was one of the first notable Minneapolis sculptors to open a studio there.  He created many well-known sculptures around the Twin Cities, including the Ibsen bust, the Hiawatha and Minnehaha sculpture at Minnehaha Park, and the Minerva sculpture at the Minneapolis Central Library.  He died at age thirty-seven in 1896.  His sisters Thomane and Gerhardine embroidered the official banner for the State of Minnesota.