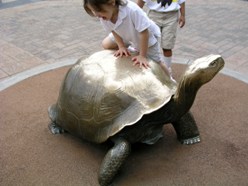 Artist Name: Tom Tischler
Media: Bronze with brown/green patina
Date Created: Unknown
Location: Como Zoo
History: This sculpture immortalizes Toby the Tortoise, a long-time favorite of Como Park Zoo visitors. Like the model, many visitors find the sculpture a favorite climbing and photographing attraction.  This is one of fifty bronze Galapagos Tortoises created by Tischler; therefore, similar sculptures appear in zoos around the United States.  
Growing up in Austin Texas, Tischler's interest in animals took root at a young age.  He has traveled extensively all over the world, including: Switzerland, Ethiopia, and Australia.  He works primarily in bronze from his studio in Western Australia.