Welcome to the Saint Paul Youth Commission!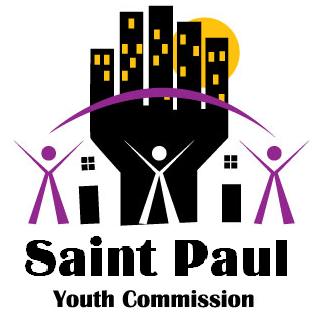 The place where Saint Paul Youth: Stand Up… Speak Up… LEAD! The Saint Paul Youth Commission is the place for young people to play a role in making Saint Paul a city that works for all of us. Working in partnership with adults, Youth Commissioners enhance their civic leadership skills, represent their peers from throughout the city, and serve as positive role models to their peers. Youth Commissioners accomplish these goals by leading community IMPACT projects, advocating for youth voice, and meeting with stakeholders.  
Youth Commissioners…​
Tackle serious issues that Saint Paul youth face! Commissioners host community engagement events to bring awareness to issues that affect young people throughout the city. With their peers and adult partners, commissioners design innovative solutions and work to implement them. 
Ensure that all youth in Saint Paul have opportunities to get involved, learn, play and make a difference in their community. 
Inform government officials and advise on policies. 
Strengthen their leadership skills and ensure strong youth voice in Saint Paul.
Are leaders today. If you want to make a difference, you better be at the table – join us now and see what we can do by working together!  
How can I join the city-wide Youth Commission?
The Youth Commission has 22 citywide members. There is at least one position reserved for youth in each Saint Paul neighborhood and 5 at-large positions. Each May, the Youth Commission recruits new members. The application deadline have been extended to July 31, 2021. Newly selected commissions start by attending the annual Saint Paul Youth Commission Orientation.
To be a part of the city-wide youth commission you must:
Live in the City of Saint Paul
Be in 9th - 12th grade while serving on the commission.
Commit 6-10 hours a month and be available to meet on Monday nights.
Have the desire to make Saint Paul the best city to grow up in!
What is an IMPACT project?
TIMPACT (Igniting Movement through Passions, Actions and Community Togetherness) projects are youth-led projects with the goal of bringing awareness and/or solutions to issues youth are facing in Saint Paul. Each year commissioners select issues they are passionate about to focus their IMPACT Project on. 
Past Youth Commission Projects Include:
Consensual Sex Awareness Campaign 
YouthBank, youth-led grant making. The Saint Paul Youth Commission distributed over $30,000.00 from 2015-2017.
Conducting a study on teen access to transit by giving bus passes to high school students. Commissioners presented to the Met Council, the Mayor's Educational Leadership Team, and the SPPS School Board.
Preventing bullying at Arlington Hills Community Center by teaching peer mediation, organizing a spoken word event with Brother Ali and Guante, and funding spoken word workshops in partnership with TruArtSpeaks.
Educating peers about sex trafficking by organizing a youth-led conference for 80 teens and youth workers at Washington Tech High School.
Opening the Canvas at Hancock Recreation Center. The Canvas is the city's only Arts-based Teen Center and is run by teens, for teens!
Opening the Doorway, a college access and resource center at Sunray Library and Dayton's Bluff Recreation Center.
Informing Saint Paul youth and families about environmentally friendly cleaning supplies.
Leading a community mapping project in the Dayton's Bluff neighborhood.
Advocating at the state legislature for circulator buses, transportation so youth can get to after-school and summer activities.
Advocating at the state legislature to pass a Youth Homelessness Act, which would raise funding for unaccompanied youth in Minnesota from 11 cents a youth to $4.50 a youth.
Commissioners' Testimonies 
"SPYC builds social skills" – Brooklynn 2018-2019 
"I have participated in the youth commission for 2 years now and it's been an amazing experience. I've had so many opportunities to meet both youth and adult leaders in the community. This has helped me build strong relationships and develop my networking skills. I'm so thankful for the youth commission and the helpful access to bus cards. Thank for making this program possible!" – Zarina 2016-2018 
"SPYC has helped me put my dreams into action. I was able to create a project that I was very passionate about come to life. This is only my first year in SPYC but I would recommend for students who are passionate about change and the betterment of their city to join because SPYC is such a great platform to start at. " - Yusanat 2018-2019