Recycling and Waste Reduction

Protecting public health and safety is a top priority for the City of Saint Paul as we work with our haulers to minimize community spread of the coronavirus (COVID-19). Garbage and recycling services will continue as normal. Maintaining regular garbage and recycling collection is an essential city service, and we continue to work with Eureka Recycling and the St. Paul Haulers to monitor and minimize any potential impact to service.
---
Announcements
Saint Paul's annual fall street sweeping is scheduled to begin on October 26! Do not place any recycling or garbage carts in the street. Please keep them on the boulevard to avoid any damage to the carts.
For options to get rid of your excess clutter, view the new Fall Disposal Guide. Additionally, check out the Saint Paul Bulky Item Collection Program or search the Ramsey County A to Z Disposal Guide for alternative options.
 Reuse, Recycling & Disposal Guide 
Registration is open for Ramsey County's Recycling Ambassador program! Recycling Ambassadors take a six-week training program to learn more about environmental health, waste systems and recycling. Learn more and sign up on their website!
Ramsey County Recycling Ambassador Program 
Fall Cleaning – Proper Disposal and Recycling Tips and Resources:
The COVID-19 pandemic, has many Saint Paul residents taking the time to do extra  cleaning" both indoors and out. Here are a few helpful recycling and disposal resources:
Make sure all materials fit into your garbage or recycling carts.
Depending on the size of the garbage cart, residents in 1-4 unit properties can have two or three free bulky items collected at no additional cost. If you have large, bulky items to dispose of, please call your garbage hauler to schedule pick up. Learn more at stpaul.gov/bulky.
Residents can drop off acceptable recyclable materials, including large, flattened cardboard at Saint Paul's recycling Drop-Off Center. Find location and hours on the Recycling Drop-off Page.
Residents can pay to drop of large items at area transfer stations. For a list of locations and hours visit ramseycounty.us/content/garbage.
Learn how to properly recycle or dispose of many items with Ramsey County's "A to Z Disposal Guide" at RamseyRecycles.com/AtoZ.
Household organics and food scraps will continue to be composted by Ramsey County. To find drop-off locations and hours, visit the Organics Recycling Page.
Properly dispose of all Household Hazardous Waste by dropping items off at Ramsey County's free hazardous waste sites. Learn more at RamseyRecycles.com/HHW.
Residents in 1-4 unit properties can put yard waste in a compostable bag to be collected by your garbage hauler for $3 per bag, plus tax (please call your garbage hauler). Find your garbage hauler contact information at stpaul.gov/garbage.
Yard waste can also be dropped off at Ramsey County's yard waste sites. For more information, visit the Ramsey County Yard Waste Page.
Donations of gently used but good items have temporarily been suspended at many collection sites. Please check with the organization before planning to drop any items off. For more information, visit the Ramsey County Reuse and Donation Page.
What's Happening with Recycling?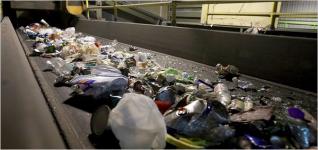 You may be hearing about recycling in the news - learn about recent industry updates and what's happening to your recyclables in Minnesota. 
Use Eureka Recycling's web app to get recycling reminders & alerts
Click here to Subscribe for Email Updates
Updated: October 14, 2020