Recycling and Waste Reduction

Upcoming Event
On Saturday, February 22, Rice Street Library is hosting a Fix-it Clinic! Stop by to get your household items fixed for free and learn valuable repair skills with our dedicated volunteers. For more information, visit Ramsey County's page about Fix-it Clinic Events or the St. Paul page on Reuse. 
Winter Collection Reminders
During the winter months, bad weather, such as icy or heavy snow conditions, may occasionally present problems for your regularly scheduled garbage and recycling collection. Look for your Winter Collection Guide delivered to residents' mailboxes! The Winter Collection Guide has helpful tips, as well as information and numbers you can contact if you have collection issues.
If you are new to Saint Paul, or did not receive a copy of the annual Winter Collection Guide, please contact us at 651-266-6199.
The City of Saint Paul is committed to making Saint Paul "The Most Livable City in America," and has been recognized as a national leader in environmental and recycling programs. As we continue to work towards increasing recycling and reducing waste, we thank you for being a part of our success! Read the 2018 Annual Recycling Report. 
---
Announcements
Do Not Place Carts in the Street - and Other Winter Collection Reminders
Winter weather is here! To help our crews with plowing efforts, do not place your carts in the street (or snowbanks) for collection. We are working with Eureka Recycling and the garbage haulers to make sure they place carts back on the boulevard.  Help our haulers safely collect your recycling this winter and follow these Winter Collection tips, also found online at stpaul.gov/wintercollection
What's Happening with Recycling?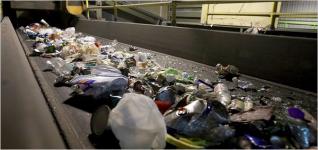 You may be hearing about recycling in the news - learn about recent industry updates and what's happening to your recyclables in Minnesota. 
Use Eureka Recycling's web app to get recycling reminders & alerts