About the Mayor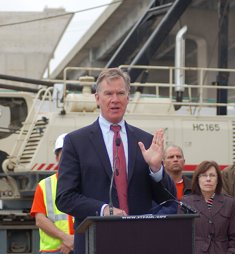 Chris Coleman took office as Saint Paul's Mayor in 2006 after several years as a city councilmember, community and neighborhood leader. Immediately, Mayor Coleman set forth initiatives to make Saint Paul the most livable city in America. His priorities include working to close the achievement gap, creating sustainable and responsible budgets, and investing in the infrastructure of Saint Paul.
Mayor Coleman has achieved several of his goals, advocating for education and public safety, and being instrumental in championing the Green Line (Central Corridor Light Rail line)—the largest infrastructure project ever undertaken in the state of Minnesota.
These efforts and initiatives are all accomplished with sound fiscal management in mind and guided by a passion for the City of Saint Paul.
Mayor Coleman's sound fiscal judgment transformed a decades-long practice of balancing the city's budget using one-time fixes and gimmicks into structurally-balanced budgets that use ongoing revenues for ongoing expenses. Putting the city on solid fiscal ground positioned Saint Paul nationally as an attractive city for investment from new businesses and employers, and allowed Saint Paul to host large international events such as Red Bull Crashed Ice, the USA Gymnastics National Championships and the 2008 Republican National Convention.
Mayor Coleman is past President of the National League of Cities, a national organization of city leaders across the United States. In 2012, Mayor Coleman was elected as the Second Vice President of National League of Cities, and became the League's Vice President in 2013.
Under Mayor Coleman's terms, Saint Paul's downtown has seen a revitalization. As light rail ridership continues to increase and more restaurants and entertainment venues have moved in, demand for housing has increased exponentially and downtown's vibrant culture has grown.
Bridging the education gap for children has been at the core of Mayor Coleman's agenda. Understanding that the future and current success of Saint Paul depends on our ability to equip our students with the tools for success from cradle to career, Mayor Coleman has introduced revolutionary programs such as Sprockets that focuses on how our students spend their crucial time outside of the classroom. Mayor Coleman has marshaled the best minds and resources to enrich the lives of children by extending social and academic opportunities beyond the school day, opening new doors of opportunity to a better life and creating a safe environment for them to live and play.
Under Mayor Coleman's leadership, Saint Paul has become a national leader in green initiatives and sustainable living. Just after taking office in 2006, Mayor Coleman signed the US Mayors Climate Protection Agreement and has hired sustainability, energy, environment, sustainable transportation and water resources coordinators. The city's sustainable investments include retrofitting buildings for energy efficiency, equipping public places with solar panels and electric vehicle charging stations, and more.
Mayor Coleman's top priority has always remained the safety of all residents and visitors to Saint Paul. Committed to building world-class departments that set the standard for service to residents and community, Mayor Coleman continues to invest in emergency personnel and training, as well as improved technology to assist them in keeping our communities safe.
Mayor Coleman and his wife, Connie, live in Saint Paul's West Side, where they raised their two children, Molly and Aidan.