About the Mayor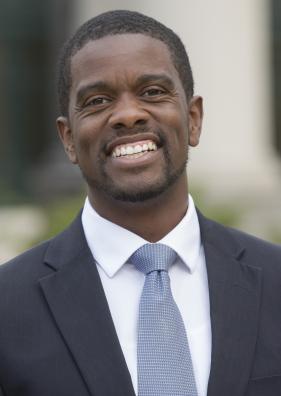 Melvin Carter is a fourth-generation Saint Paul resident, Saint Paul public school graduate, former Saint Paul City Councilmember, father, and Saint Paul's Mayor.
Carter grew up in the Rondo neighborhood as the son of one of Saint Paul's first black police officers, and a teacher (who now serves as a Ramsey County Commissioner). He attended Saint Paul public schools, ran track at his neighborhood rec center, and graduated from Central High School. He currently lives blocks away from where he grew up with his wife, Dr. Sakeena Futrell-Carter, and the youngest three of their five children.
Carter has been working to engage, enfranchise, and uplift people not only in Saint Paul, but also across the state and nation. Most recently, he served as Executive Director of the Minnesota Children's Cabinet, advising Governor Mark Dayton on early childhood policy. Prior to joining state government, Carter represented Ward 1 on the Saint Paul City Council from 2008 to 2013.
In the run up to his campaign for Mayor, Carter spent a year in conversation with neighbors through a series of listening sessions called Imagine Saint Paul. His unconventional campaign focused on grassroots organizing and earning support from every corner of the city.
Top Priorities
Mayor Carter's top priorities in office include:
Ensuring kids thrive as Saint Paul grows
Focus on early childhood investments to give every student a strong start.
Invest in comprehensive support systems – including essential health services and affordable housing for Saint Paul children and families.
Partner with schools, colleges, workforce training programs and trade unions.
Building safer neighborhoods from the ground up
Hire police officers that reflect our city's diversity, have a stake in our neighborhoods, and protect and serve all of us.
Make sure officers are trained in de-escalation techniques and connected to social workers, mental health providers and crisis prevention counselors so they can help people in crisis get the help they need.
Hold officers accountable for conduct that doesn't meet our standards.
Investing in a city that delivers on its promise 
Ensure economic growth reaches all corners of our city – especially the areas that need it most.
Invest in businesses along cultural corridors across the city.
Make it easier for Saint Paul residents to open and run a business - especially people of color, immigrants, and women.
Carter holds a Bachelor's Degree in business administration from Florida A&M University and a Master of Public Policy from the Humphrey School of Public Affairs at the University of Minnesota.