Phalen Park Beach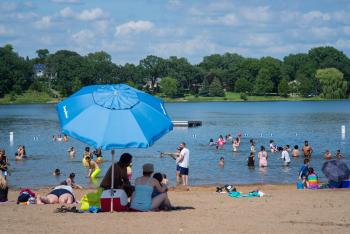 Thanks for another great summer. Phalen Park Beach is now closed for the season. See you in 2019!
Amenities
Sand beach
Splash pad
Sand volleyball court (bring your own net)
Locker rooms
Free meals for youth through the Free Summer Meals Program
Canoe clinics (see below)
Watercraft rentals (see below)
Swimming Lessons
Watercraft Rentals
Watercraft rentals are now closed for the season. See you in June 2019!
Watercraft rentals are available at Phalen Beach during summer hours. 
Paddle boats        $15/hr.
Canoe                   $10/hr.
Kayak                    $8/hr.
Canoe Clinics
For ages 10+
Learn about boat safety
Learn the 5 different paddle strokes
Learn how to properly maneuver a canoe
Learn how to tip a canoe back over
Go on an excursion around the famous Phalen Lake to test their new skills
$10/class - No registration necessary
Tuesdays: June 19, 26 and July 10, 17, 24, 31
12:30pm - 1:30pm
Lake Phalen Boat Storage
Do you have a sailboat? How about a canoe or kayak? Why not store it on Lake Phalen this summer and enjoy this pristine lake in the heart of Saint Paul whenever you like?
Lake Phalen is one of the largest lakes in Saint Paul and no gasoline outboard motors are allowed on the lake, so it is a perfect place for peaceful boating on a sunny summer day. Seasonal sailboat buoy rentals are $300 for Saint Paul residents and $400 for non-residents. Canoe and Kayak storage is just $100 for Saint Paul residents and $130 for non-residents. Call 651-266-6396 for more information.  
Lifeguarding Jobs
Interested in becoming a lifeguard at Lake Phalen Beach? Positions are posted on the City of Saint Paul jobs webpage. Lifeguarding certification can be obtained though our training programs.
Photos