Emerald Ash Borer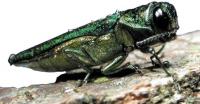 Situation Awareness Level: CRITICAL
​Emerald ash borer (EAB) is a small, yet destructive insect pest of all species of ash trees (Fraxinus genus) in North America. EAB is native to Asia and has no natural enemies here for control, thus, it has become the single most devastating forest pest ever to be found on our shores.
The first infestation of EAB in Minnesota was discovered in Saint Paul in 2009, though it is believed that it arrived as early as 2004. While EAB spread starts slowly—usually undetected in the upper canopy of ash trees—it reproduces exponentially and advances quickly to kill all of a community's ash trees, usually within 10-15 years of arrival. Now fourteen years in (2004-2018), EAB in Saint Paul has reached a critical stage. 
Beginning in 2010, the City of Saint Paul, Department of Parks and Recreation/Forestry implemented an EAB Management Plan to address this issue, including outreach and education for residents.
EAB in Saint Paul:
EAB in Minnesota & Nationwide:
Emerald ash borer was first discovered in SE Michigan in 2002, but it is thought to have been present since the early 1990's. Since its' arrival to North America, it has spread to numerous states and Canadian provinces. Check the links below for the most up-to-date statewide and nationwide EAB information.
EAB Resources and Links