Off-Leash Dog Parks
Saint Paul Dog Parks
Saint Paul currently has four off-leash dog parks. Dogs are only allowed off-leash in the four dog parks listed below.
Arlington/Arkwright Dog Park
Located on the corner of Arlington Ave and Arkwright St, the rectangular 4.5 acre plot of land provides wooded trails, open space, and a large bowl-shaped slope for dogs to roam around in.
High Bridge Dog Park
7/3/19: Vehicle access to the High Bridge Dog Park via Randolph Ave is still closed. At this time, we hope to have the park fully re-opened by the end of July. Vehicles should continue to access the dog park via Washington Street and park on Spring Street. Pedestrian and bicycle access to the park is available via the Samuel Morgan Trail. MnDOT has ordered new gates and once they arrive we will have more information on when the new gates can be installed, the temporary fencing can be removed, and the main access off Randolph Ave can be re-opened. Check the High Bridge Construction project website, or call the project hotline at 651-286-8484 for current information.
This seven acre plot of land, the site of a former power plant fueled by coal, was generously given to the City of Saint Paul and transformed into a beautiful dog park following a May of 2012 clean-up. Just west of Upper Landing Park, High Bridge Dog Park provides ample space for dogs and their caretakers. Normal dog park rules do apply.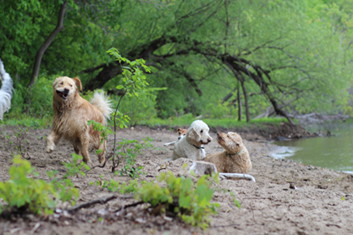 Meeker Island Dog Park
The Meeker Island Dog Park is located adjacent to Meeker Island Historic Lock and Dam site, the first and northernmost lock and dam on the Mississippi. The site is located just west of the intersection of Eustice Street and N Mississippi River Blvd near the border of Saint Paul and Minneapolis. The park is located along the river at the bottom of the bluff and can be accessed from the entrance along the Mississippi River Blvd trail. It features a dog run and a dog beach. There is no fence surrounding the park, which is bordered by the Mississippi River and the steep river bluffs.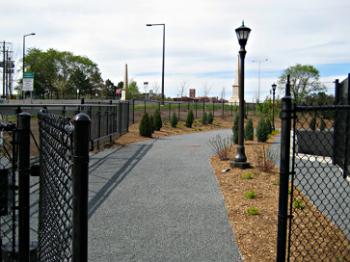 Lowertown Dog Park
Located near CHS Field, Lowertown Dog Park is completely fenced in and is a designated off-leash area.