Teen Centers
Createch Studio
Createch Studio, located inside Arlington Hills Community Center, is a creative tinkering space for Saint Paul teens, providing a physical space to gather, access tools needed to pursue interests, spark new passions, and be encouraged by mentors who support their individual growth. Createch Studio offers tools necessary to explore sewing, circuitry, crafting, photography, videography, audio recording, drawing, videogames, software and apps.
Rice Teen Zone
Rice Teen Zone, located inside Rice Recreation Center, is a safe place for teens to gather and interact with each other under the supervision of mentors. Teens can share and develop their skills in programs including art, homework help, video games, cooking, breakdancing, music recording, community activism and more.
The Canvas
The C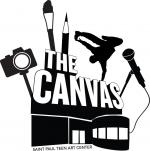 anvas, located inside Hancock Recreation Center, is an arts-based teen center conceived and run entirely by youth, for youth. Promoting values such as social, artistic, and intellectual development, the Canvas uses art to build community and improve the lives of youth. The program provides independent workspaces, workshops and seminars in the arts, and discussions and events on issues important to youth. Teens can attend workshops on dance, rapping, spoken-word, photography, fiction and more.