Bike Walk Central Corridor
Progress UpdateRead more about our progressto date on the implementation of this plan.
City Council Adopts PlanThe City Council adopted the Bike Walk Central Corridor Action Plan on May 5, 2010.
Goal
The goal of the Bike Walk Central Corridor Action Plan is to enhance biking and walking to and within the Central Corridor and foster bicycling and walking as a major portion of the transportation solution. The Plan will achieve this goal of increasing biking and walking travel mode share in the Central Corridor by focusing on five objectives - Improving Connectivity, Enhancing Safety, Improving the Bike-Walk Experience, Fostering Creative Solutions, and Feasibility/Functionality. These objectives will inform Plan routes, support facilities, amenities and programs.
Background We've prepared a little FAQ sheetto address some of the common questions we've received about bike lanes on University. For more on the thought behind the draft plan, you can check out the presentation here from the Open House back in February. Newsletter and BlogIf you'd like to catch up on the progress so far, a great way to do that is to read our newsletters. Here is our firstnewsletter and second newsletter, and click hereto get your copy of the third. Another great source of information is our blog.
Bike Walk LinksClickherefor our links page. Events The City of Saint Paul is co-sponsoring two bike/walk events at the Winter Carnival.
ContactFor more information contact Emily Erickson (For security reasons, you must enable JavaScript to view this E-mail address. or 651-266-6551).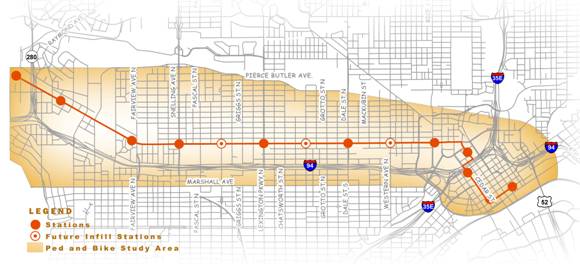 This is the map of the project area.