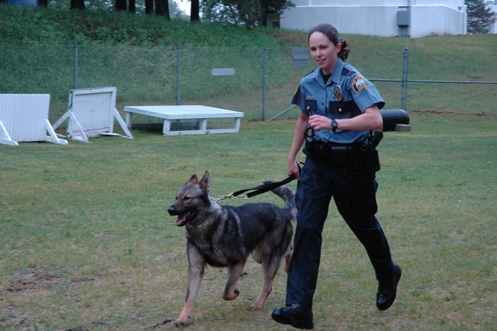 The Saint Paul Police Canine (K-9) Unit is the second oldest police canine organization in the United States. We operate with eighteen (18) Officer/Canine teams and provide 24/7 coverage. The mission of the Canine (K-9) Unit is to support the patrol districts with all patrol functions. In addition to basic patrol dog responsibilities, our canines specialize in: criminal suspect searches/apprehensions, evidence searches, explosive detection, narcotic detection, open area searches, site security and tracking. The Saint Paul Police Department also deploys single purpose canines solely trained for narcotic and explosive detection.
Public education is also an important element of the Canine (K-9) Unit. Officers conduct public demonstrations for neighborhood, civic and community organizations on a regular basis. During the Minnesota State Fair, make sure you visit the Pet Building at 7:00 p.m. almost every night to view our presentation.
The Canine (K-9) Unit is partially supported by the non-profit Saint Paul Police K-9 Foundation, since all canines must currently be purchased. Donated dogs are no longer accepted.
Saint Paul Police canine officers have received over three hundred awards for national, regional, local or departmental recognition of quality police work. Contact Commander Brad Hazelett for more information: 651-266-5561