National Night Out
Tuesday, August 1, 2017
Citywide in Saint Paul
Time? What fits your neighborhood best!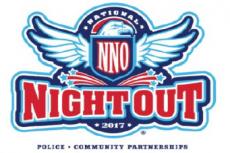 National Night Out, held on the 1st Tuesday of every August, is a nationwide event designed to build partnerships, strengthen relationships between neighbors and law enforcement, and raise crime prevention awareness across the nation.
We encourage, ask for, and appreciate ALL SAINT PAUL residents to participate on
Tuesday, August 1, 2017, for the 34th annual National Night Out! Neighborhoods
including everyone; homeowners, renters, retail, and all businesses are needed to help
make our city "the most livable place in America!" Hosting a block party or an event of
any kind large or small, provides a way for people to meet one another and discover
how they can keep their area a place they all want to live, work, play, or whatever the
case, as crime free and with a high quality of life for all. National Night Out has proven
time and time again to help people work together to improve safety in their
neighborhoods. Begin your planning early and become involved in National Night Out 2017!
Block Party
Register your 2017 party through our online form or our printable form. Your registration will help us to plan for
a visit to your event from police, fire, and other public entities.
Block Party Permit
Complete the block party permit form to allow your block to be barricaded for the time of your block
party. Remember, you must have the signature of 60% of the neighbors affected by
the street being closed and, you must have the permit signed by a notary. This can be
done at most banks/credit unions for free. For more information about the permit
process please contact Community Services Unit at 651-266-5485.
Ideas and Checklist
Have questions on how to set up an NNO event? Use our NNO checklist to make sure that everything is ready for your event. 
You can use our list of NNO ideas to plan your event, or come up with something all your own!
Tools and other information you may need
Fire Department Request
National Night Out Flyer
Ice Breaker Game
National Night Out neighborhood invitations
For more National Night information contact Pam McCreary at 651-266-5455 or
pam.mccreary@ci.stpaul.mn.us