National Night Out
Saint Paul's National Night Out
August 6th, 2019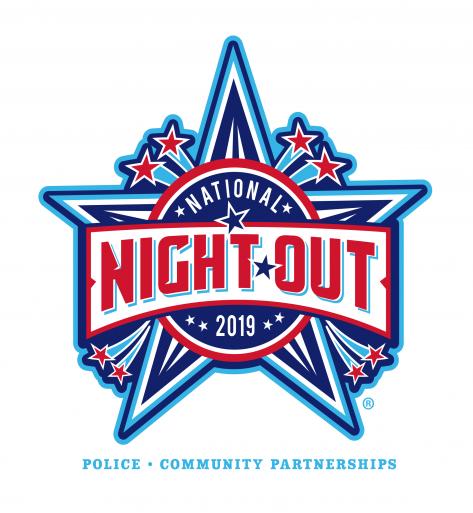 NNO Application  Participation guide
Early Bird Registration Special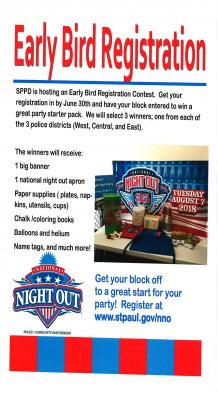 National Night Out is an annual nationwide event that encourages residents to get out in the community, meet neighbors, and partner with police.  Events can be simple gatherings to large community events. National Night Out has participation across all 50 states.  St. Paul was ranked 2nd nationally for a city with a population between 100,000-300,000 in 2018.  We had over 300 registered parties and are looking forward to even greater participation in 2019.
We encourage, ask for and appreciate ALL SAINT PAUL residents to participate on Tuesday, August 6, 2019 for the 36th Annual National Night Out! Neighborhoods include everyone: homeowners, renters, retail and all businesses are needed to help make our city "the most livable place in America!"  Hosting a block party or an event of any kind, large or small, provides a way for people to meet one another and discover how they can keep their neighborhoods crime free and high quality for all who live, work and play there. National Night Out has proven, time and time again, to help people work together to improve the safety of their surroundings.
Sgt. Fuzz wants to celebrate National Night Out by officially co-hosting 3 events.  One in Each Patrol District.  He will:
Appear at each event
Pose for photos
And handout crime tips, etc. 
Your party will get to use Sgt. Fuzz to market your event.
How will we choose?
Each party that would like to have Sgt. Fuzz co-host needs to submit an application by July 19th and have their event registered.
In the application:  you need to tell us why Fuzz should choose your party.  It can be a letter, poem, video, song, but it should be fun and creative!
You can submit your application by clicking the button above or by submitting it to Patty Lammers at patricia.lammers@ci.stpaul.mn.us or mail to Patty Lammers 367 Grove St. St. Paul, MN 55101 .  Please include your contact information in the submission.