In 2016, Saint Paul Police Chief Todd Axtell released 15 years of previously unseen data about traffic stops. Since then, the department has continued to release data about who is being stopped, where the stops are occurring and why officers are making the stops.
2021 Data: At a glance
Officers made 16,703 traffic stops
12,702 traffic stops were made for moving violations
3,342 traffic stops were made for equipment violations
649 investigative traffic stops were made
9 traffic stops were the result of 911 calls
1 stop was made for other reasons. 
Traffic stops: an important public safety tool 
Most traffic stops occur in areas of the city from which the most 911 calls are made
Most traffic stops occur in neighborhoods experiencing the highest levels of violent crime
Officers are most likely to issue citations for behavior that leads to crashes, injuries and death
Traffic stops help officers take illegally possessed guns off the streets—in 2021, 150 illegally possessed guns were recovered during traffic stops.
Chief Axtell's commitment to responsiveness and transparency with our community led to changes in 2021 for traffic stop protocols of the Saint Paul Police Department.
On Sept. 8, 2021, Chief Axtell convened a Traffic Stop Working Group to explore overall traffic safety in the City of Saint Paul, equity and traffic enforcement—and then make recommendations about how the SPPD can best keep the streets safe for everyone.
The group included members of the Saint Paul NAACP, the African American Leadership Council, the Black Ministerial Alliance, the City's Department of Human Rights & Equal Economic Opportunity, the City Attorney's Office, traffic safety advocates and Saint Paul police officers.
After months of data review and analysis, the group determined that the following driving behaviors and violations are most likely to lead to crashes, injuries and death:
speeding
distracted driving
reckless driving
driving under the influence
running stop signs and stop lights and
egregious equipment violations such as driving without headlights, significantly obstructed view, etc.
Through the workgroup and data analysis, the conclusion was reached that, while minor equipment violations (including expired tabs, a single burned out headlight or taillight, small windshield cracks, lack of license plate lights, and small objects hanging from mirrors that don't significantly obstruct a driver's view of the road) are illegal and important to note, they have little effect on the overall safety of our streets.
As a result, Chief Axtell provided guidance and direction to officers that minor equipment violations should not be used as a primary reason for a traffic stop, unless there is an articulable public safety concern. In addition, SPPD began working to establish a system to allow officers to document minor equipment violations and notify the registered owners of vehicles via the mail.
Where Traffic Stops Occur: Keeping streets and neighborhoods safe
The 2021 data show that officers make most traffic stops in neighborhoods experiencing higher levels of serious crime and where community members have shared concerns about speeding, distracted driving and other dangerous behaviors. These same areas tend to have higher levels of poverty and are among our most diverse. Our community has made clear that they want and need officers in these neighborhoods, deterring crime, helping victims, taking guns off the streets.
The following maps show that most traffic stops occur in these areas of the city—where officers are responding to reports of shots fired, helping gunshot wound victims, recovering illegally possessed firearms and following up on 911 calls.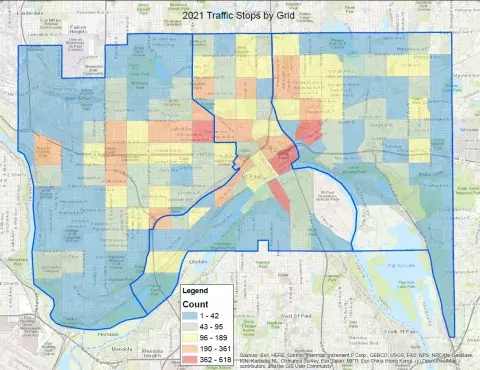 Most traffic stops occur in areas of the city with the highest levels of 911 calls reporting violent crime.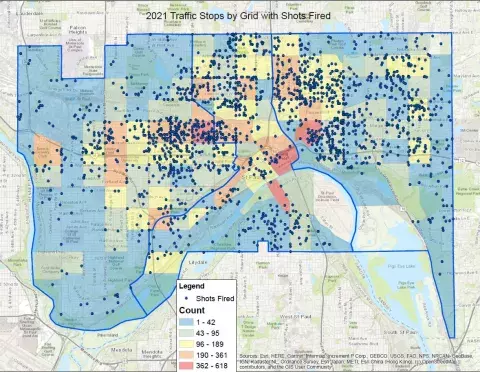 Most traffic stops occur in neighborhoods with the highest levels of 911 calls reporting shots fired.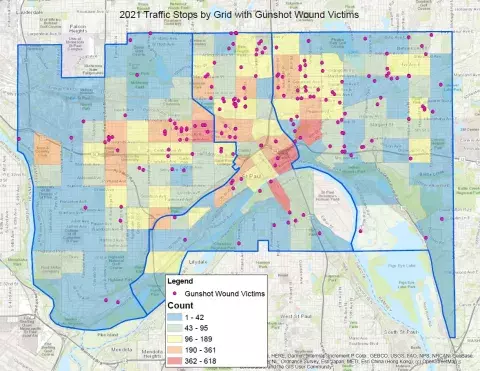 Most traffic stops occur in neighborhoods with the highest levels of 911 calls reporting people shot.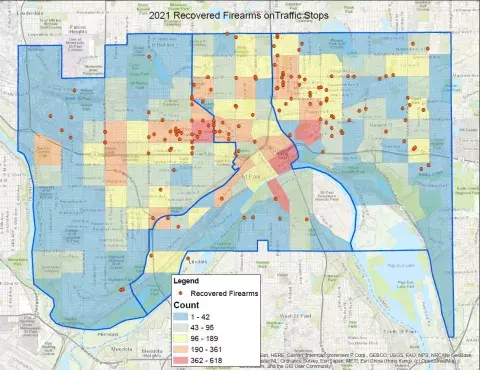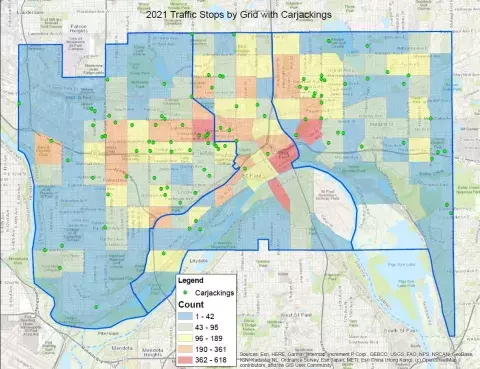 Most traffic stops during which guns are recovered occur in neighborhoods experiencing higher levels of violent crime.