Holiday Collection
Your regular collection will be delayed one day if it falls on or after the following observed holidays:
Memorial Day
4th of July
Labor Day
Thanksgiving Day
Christmas Day
New Year's Day
Holiday Tree Collection
You can have one live holiday tree collected, at no additional cost, between January 1 and January 15 each year. This is a separate service from bulky item collection and does not count as a bulky item.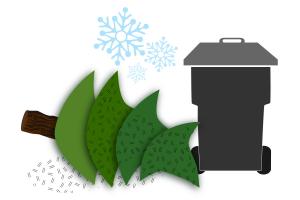 Place your tree next to your garbage cart on your regular collection day.
All trees must have decorations and stands removed. No artificial trees.
Holiday trees must be no larger than 6 feet in length and 20 pounds in weight.
Additional holiday trees or trees larger than 6 feet in length can be collected for $10 each, plus tax.