Kellogg Blvd. Reconstruction
UPDATE: April 25, 2016
Schedule for Spring 2016 Completion of the Downtown Kellogg Boulevard Bridges    
On Monday, May 2, road closures and detours will go into effect for completion of the final phase of the downtown Kellogg Boulevard Bridges replacement project.  Spring work is required to place a permanent high-strength concrete road surface on the bridge deck. This work impacts the approaches between Market Street and Wabasha Street and to accommodate this work, segments of downtown roadways will be closed, including:
Kellogg Boulevard, between Market Street and Wabasha Street
Southbound Wabasha Bridge across the Mississippi River, and
Eastbound Exchange Street Viaduct (near RiverCentre).
Pedestrian access will be accessible but limited. Pedestrians can cross Kellogg Blvd at Washington Street and Wabasha Street. Pedestrians can use the Northside sidewalks along Kellogg Boulevard in the construction zone. 
Bridge work is expected to be completed by mid-June.  Your patience is greatly appreciated. Check back to this page for updates. 
UPDATE: December 31, 2015
All Lanes Open on Kellogg Blvd
All lanes of traffic on the sections of Kellogg Boulevard between Market Street and Wabasha Street are now open.
This portion of Kellogg Blvd had been closed since spring for replacement of the two bridges that span this section of the street.  Final work on the bridges will resume in the spring of 2016 and will require a temporary street closure.
Public Works Director Kathy Lantry stated, "We are excited to be done with this phase of the work and to completely open this artery into Downtown Saint Paul. We thank the public and commuters for their patience while we build this bridge ensuring it will last 75 to 100 years."
Updates and work schedules will be provided at www.stpaul.gov/Kellogg. 
UPDATE: Limited Street Opening on Kellogg Blvd Bridge for Winter 2015-16
Department of Public Works and Contractor are Continuing Work to Ensure it is Safe, Reliable, and Will Last 75 to 100 Years.
Unforeseen challenges have arose while constructing the downtown bridges that support Kellogg Boulevard. Specifically, progress has been slowed due to weathering of the sandstone bluff, voids and tunnels exposed during construction of bridge foundations. Consequently those foundations needed to be fortified to ensure that the bridge will last 75 to 100 years. The project will have a winter suspension and work will resume in the spring and be completed by the summer of 2016.
Public Works Bridge and Traffic Operations teams are working together to restore as much traffic as possible to Kellogg Boulevard and Wabasha Street Bridge in late December, prior to winter suspension.
Under the lights: Crews completing a deck concrete pour on 10/15/2015 at sunset.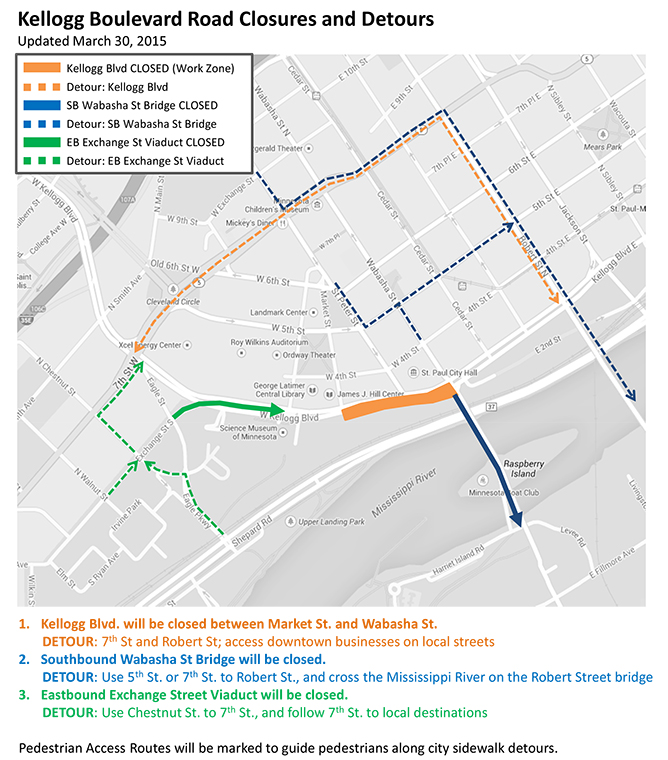 Click here for PDF road closure and detour map
Sign up for project updates
Project summary
This project will result in the closure of Kellogg Boulevard from Market Street to Wabasha Street, the southbound lanes on the Wabasha Bridge, and the Exchange Street viaduct for the duration of the project. Local access to parking facilities and businesses will be maintained throughout construction. Posted detours will redirect traffic along 7th Street and Robert Street.
Kellogg Boulevard in downtown Saint Paul is made up of several complex and relatively unknown bridges, which were designed to seamlessly integrate with the surrounding sidewalk, roadway, utilities and buildings. Originally built in the 1930s, these bridges now need to be replaced.
This is a complex project due to the location and intricacy of the bridges. Because of this, unavoidable and significant downtown traffic impacts are anticipated during construction. The City of Saint Paul is working closely with businesses in the area to effectively manage traffic, especially during the many events that occur at Xcel Energy Center, RiverCentre, and other nearby entertainment destinations during the summer.