Johnson Parkway Regional Trail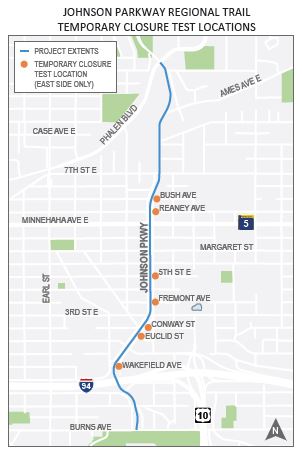 In 2020, the City of Saint Paul will be constructing a trail along the east side of Johnson Parkway from Burns Avenue to Phalen Boulevard.  This is a planned segment of the Saint Paul Grand Round.
Implementing this project includes several initial steps to understand the impacts of potential improvements in the area:
Step 1
We will be counting vehicles, bicycles, and pedestrians to have an understanding of how the parkway functions today.
Step 2
Beginning Wednesday, November 14, some intersections will be temporarily modified to simulate how future trail improvements would impact traffic.  
This may require travelers to temporarily use alternate routes.
The temporary modifications will be removed after the counting is completed - before the end of 2018
Step 3
The traffic information gathered before and after the temporary modifications will be analyzed to understand impacts to the street network. 
The results of this study will be posted to the project webpage.
Step 4
Public meetings to discuss the project are anticipated to occur in November and December. 
Meeting announcements will be posted.
Project Updates
Thursday, January 17, 2019
Johnson Parkway Trail Open House
When: January 17, 5-7 PM
Where: Duluth and Case Rec Center (1020 Duluth Street, Saint Paul, MN, 55106)
Please join us for our first project Open House to learn more about the Johnson Parkway Trail. The Open House will include a presentation, informational boards on the trail project, and opportunities to provide feedback to help shape the future of the Johnson Parkway corridor.
Tuesday, November 13, 2018
Beginning Wednesday, November 14 through Thursday, December 6, seven intersections along Johnson Parkway will be temporarily closed to accommodate a traffic study. Please reference the "Temporary Closure Test Locations Map" under Project Documents.
The intersections will re-open between Wednesday, November 21 through Sunday, November 25 for the Thanksgiving holiday.