Johnson Parkway Regional Trail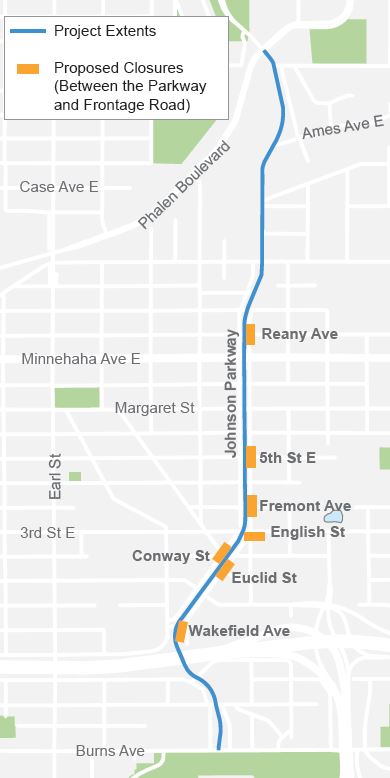 Thank you for your patience and understanding as we work with our staff, contractors, and suppliers to deliver proposed 2020 construction projects during the COVID-19 pandemic. Saint Paul Public Works continues to follow all federal and state health and safety guidelines to protect our staff, partners, and community.
Projects are anticipated to move forward. 
Community meetings and input for public hearings will be held online or by phone rather than in-person.
Construction work will continue to be evaluated and may require adjustments. 
Updates will be posted as they become available.
---
What is Proposed?
Saint Paul Public Works, in coordination with the Department of Parks and Recreation and Ramsey County, is proposing to construct an off-street walking and biking trail along Johnson Parkway. The trail will be constructed along the eastern boulevard of Johnson Parkway between Burns Avenue and Phalen Boulevard in 2020.
Purpose
This project will improve the safety and comfort of walking and biking in the area. It will also complete a key segment of the Saint Paul Grand Round, a 27-mile scenic parkway that connects parks and neighborhoods across Saint Paul.
Project Updates
Friday, April 10, 2020
The project design has been completed and the project will be out for bid in May.
Tree removal will take place in the coming weeks.
Major construction will start after July 4.
The project is expected to be finished by the end of the construction season.
Wednesday, October 16, 2019
Johnson Parkway Trail City Council Public Hearing
Wednesday, October 16, 2019, 5:30 PM
City Council Chambers, 300 City Hall, 15 Kellogg Blvd W
This project will be presented to the Saint Paul City Council on Wednesday, October 16. This will be a public hearing, and there will be an opportunity for public comment. The City Council will be asked to approve a resolution authorizing Public Works to implement intersection safety improvements, including seven partial intersections closures, along Johnson Parkway with the trail project.