Johnson Parkway Regional Trail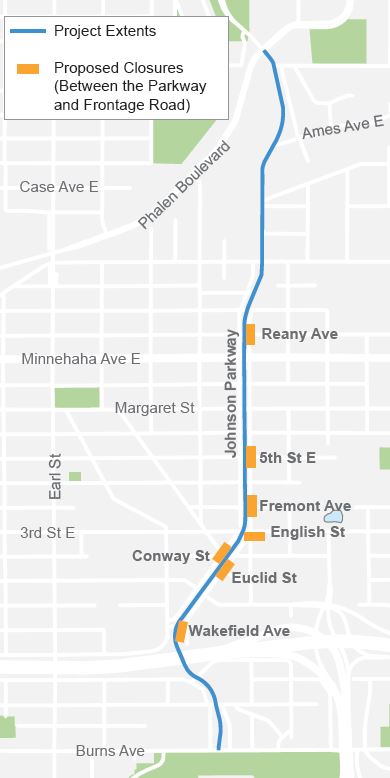 What is Proposed?
Saint Paul Public Works, in coordination with the Department of Parks and Recreation and Ramsey County, is proposing to construct an off-street walking and biking trail along Johnson Parkway. The trail will be constructed along the eastern boulevard of Johnson Parkway between Burns Avenue and Phalen Boulevard in 2020.
Purpose
This project will improve the safety and comfort of walking and biking in the area. It will also complete a key segment of the Saint Paul Grand Round, a 27-mile scenic parkway that connects parks and neighborhoods across Saint Paul.
Project Updates
Wednesday, October 16, 2019
Johnson Parkway Trail City Council Public Hearing
Wednesday, October 16, 2019, 5:30 PM
City Council Chambers, 300 City Hall, 15 Kellogg Blvd W
This project will be presented to the Saint Paul City Council on Wednesday, October 16. This will be a public hearing, and there will be an opportunity for public comment. The City Council will be asked to approve a resolution authorizing Public Works to implement intersection safety improvements, including seven partial intersections closures, along Johnson Parkway with the trail project.
Tuesday, July 9, 2019
The second project Open House was held on Tuesday, July 9, 2019 from 5 to 7 PM at the Duluth and Case Recreation Center. The open house included a brief presentation, informational boards, and opportunities to provide feedback. If you were not able to make it to the July 9 meeting, you may provide feedback on the proposal by emailing project staff at the address below:
Luke Hanson, City of Saint Paul: Luke.Hanson@ci.stpaul.mn.us
Meeting Resources: