Prosperity / Hazelwood Bikeway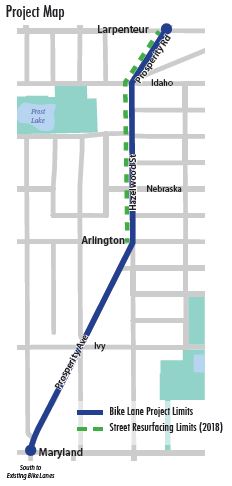 What is Proposed?
Ramsey County is planning to resurface Hazelwood Street and Prosperity Road between Arlington and Larpenteur avenues. The Saint Paul Bicycle Plan recommends in-street separated lanes within the project corridor, and Saint Paul and Ramsey County Public Works are proposing to install bike lanes when the street is resurfaced in 2018. Bike lanes are also proposed south of the resurfacing between Arlington and Maryland Avenues.
Purpose
Adding bike lanes to Prosperity Avenue, Hazelwood Street, and Prosperity Road between Maryland and Larpenteur avenues will make the street a safer and more comfortable place to ride a bike. Bike lanes will also encourage more predictable riding behavior by providing a dedicated place to ride on the street outside of the motorized travel lane.
Changes to On-Street Parking
There is currently parking on both sides of Prosperity Avenue, Hazelwood Street, and Prosperity Road. To add bike lanes, parking would need to be removed on one side of the road between Maryland and Larpenteur avenues. Parking counts were performed on Prosperity Avenue, Hazelwood Street, and Prosperity Road. The amount of parking spaces will be reduced after installing bike lanes, but should meet the current parking need. (Link to Parking Study)
Project Updates:
January 23, 2018
A project meeting was held on Tuesday, January 23rd at the Duluth and Case Recreation Center to present information and receive feedback on the project. If you were not able to make it to the January 23rd meeting, you may provide feedback on the proposal by emailing project staff at the addresses below:
Meeting Resources:
Next Steps: The proposed changes to Prosperity/Hazelwood will be presented to the City Council at a public hearing. A notice detailing the date and time of the public hearing will be mailed to residents and property owners along the corridor once details are finalized. 
January 17, 2018
City staff presented information and answered questions about the project at the District 2 Board of Directors meeting.
March 2017 – Present
City and County staff performed parking surveys, speed studies, street measurements, and traffic counts along the corridor.