Wheelock Parkway Reconstruction Phase IV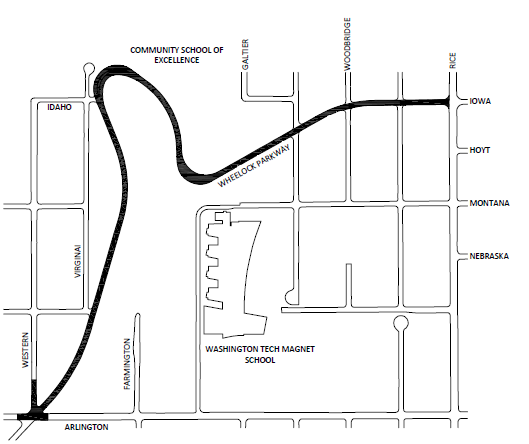 On Monday, September 23, representatives from Street Design and Construction and the Real Estate Section will hold an informal question and answer forum to address project related construction and assessment questions:
Stop by anytime between 5:00 and 6:00 p.m.
North Dale Recreation Center
1414 St. Albans Street North
Project Update
Questions?  Contact Project Manager Chris Engelmann at 651-266-6084
September 12, 2019
This week
Rice Street to Marion Street:
Graded boulevards for sodding.
Arlington Avenue to Idaho Avenue:
Continued work for storm sewer system between Nebraska Avenue and Idaho Avenue.
Began roadway subbase and grading work.
Next Week
Begin sod installation between Rice Street and Marion Street.
Begin roadway paving to finished grade between Rice Street and Marion Street.
Begin concrete curb installation between Arlington Avenue and Idaho Avenue.
Begin roadway paving between Arlington Avenue and Idaho Avenue.
Begin grading for easterly trail and sidewalk between Arlington Avenue and Idaho Avenue.
Begin sanitary sewer manhole rehabilitation work at the Arlington Avenue intersection.
Continue storm sewer installation between Marion Street and Idaho Avenue.
Traffic
The parkway is closed from Arlington Avenue to Marion Street.
The Wheelock Parkway/Arlington Avenue intersection is now open for traffic. However, Wheelock Parkway north of Arlington Avenue will remain closed for road work.
Wheelock Parkway is substantially complete from Rice Street to Woodbridge Street and open for local traffic.
Access for Wheelock Parkway residents will be routed on local streets.
Alley reconstruction on the block of Fuller Avenue/Aurora Avenue/Western Avenue/Virginia Street
Tentative start date will be the week of September 16

.

Work is scheduled to take about 2-weeks.
Continue to place trash and recycling carts as normal for Thursday pick-up.
Alley access may be limited during the working hours of 7:00 a.m. to 6:00 p.m.