Garbage Service Holds
The Citywide Garbage program has two options for temporarily stopping garbage service: Temporary Service Hold and an Unoccupied Dwelling Unit Registration. Service holds may not be used to avoid paying for service if a residence is occupied.
Temporary Service Hold
Temporary absences for service holds can include, but are not limited to: extended vacations, temporary employment or education relocation, extended absence due to health reasons, or other similar situations*. 
Requests must be made, to the hauler, two weeks prior to the hold start date.
Qualifying absences must be a minimum of four weeks.
Temporary Service Hold period can not exceed 26 weeks in a calendar year. 
Residents may request up to two service holds per calendar year. 
Download the Temporary Service Hold application form and email or mail it back to your designated hauler directly to request this type of service hold.  Find your hauler's information by using our interactive map.
If a garbage hauler denies a Temporary Service Hold request, the property owner can appeal by contacting the City's Garbage Line at 651-266-6101 or by emailing garbage@ci.stpaul.mn.us. 
*Holds will not be honored for vacancy while a house is up for sale. Please call your hauler to cancel service and update billing after the home has sold.   
---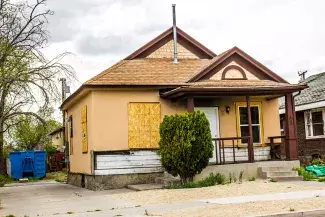 Unoccupied Dwelling Unit Registration
Property owners that have a vacant unit can request an Unoccupied Dwelling Registration Form to suspend service until the unit becomes occupied. Unoccupied Dwelling Registrations go in to effective the 1st of the month after the month they are received by the City of Saint Paul and are evaluated annually. 
You can make this service hold request by completing the form online or by downloading and emailing or mailing the form to the City of Saint Paul. 
 To make this request complete the Submit an online Unoccupied Dwelling Registration Form. For more information call the Garbage Program at 651-266-6101. 
You can also make this request by saving or printing before filling it out. Download the Unoccupied Dwelling Registration Form and email the completed form to garbage@ci.stpaul.mn.us  or by mail.