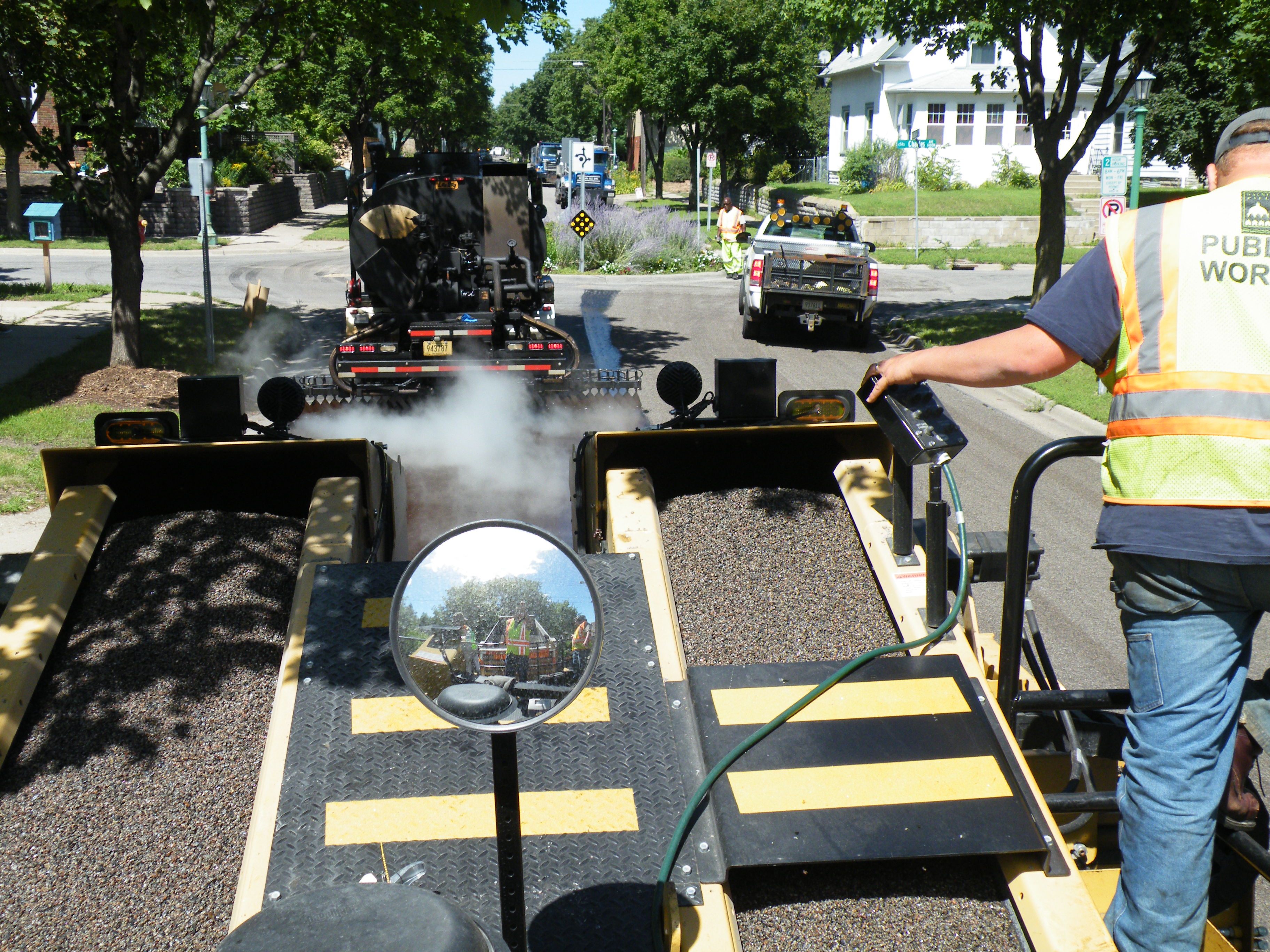 Seal coating is a street maintenance technique which preserves the condition of a street by sealing the surface and small cracks within the existing asphalt pavement. When this type of preventative maintenance is performed on a timely basis, a typical pavement may last 40 years before it needs to be reconstructed. Saint Paul's residential streets are seal coated every eight years. Because of the heavier loads and higher traffic volume, arterial streets are milled and overlayed.
The Process
​This street maintenance technique involves applying hot liquid asphalt to a street surface and covering the street with a graded aggregate to produce a waterproof membrane.
During the summer months, several weeks before seal coating begins, the city's street maintenance division will work in the area to prep the streets, which can include pothole patching and/or some skim paving, which is putting down a thin layer of asphalt to patch a larger area of the street.
There are several steps to seal coating:
First, the street surface is swept clean of all loose pavement and dust.
Next, the surface of the asphalt is completely covered with a layer of liquid asphalt using a tank truck called a distributor.
Afterwards, a layer of gravel is placed over the liquid asphalt with a machine called a chip spreader.
Torpedo gravel (egg shaped) or crushed granite gravel chips are then worked into the asphalt with a rubber tire roller.
Traffic is allowed back on the street within several minutes of placing and compacting the gravel, as the weight of vehicles helps to work the gravel into the soft asphalt.
Finally, the streets are swept to pick up any loose gravel.
Recovered gravel is screened and re-used for the next seal coating project.
2020 Seal Coating Schedule
Approximately one-eighth of the city is seal coated each year. Streets will be prepped for seal coating will begin in July 2020 and seal coating work will begin in early August 2020 and will take place in the Summit Hill, Cathedral Hill, Summit University and Irvine Park neighborhoods. 
Homeowners will see an assessment for this work at the end of the year when the project is completed. If you are planning on selling your property this year, please notify your title company about this assessment billed in December 2020. The 2020 estimated rate is $6.89 per foot for streets, and $5.22 per foot for alleys.
View the seal coating map.
Alley seal coating has been completed for the 2020 area. Street seal coating began on August 18 and expected to be completed by September 1 if there are no weather delays.
Check out our seal coating video to learn more about the process.
Street Maintenance Service Program 
Learn more about the City of Saint Paul's Street Maintenance Service Program and property owner's fees for lighting, street sweeping, seal coating and/or mill and overlay projects.