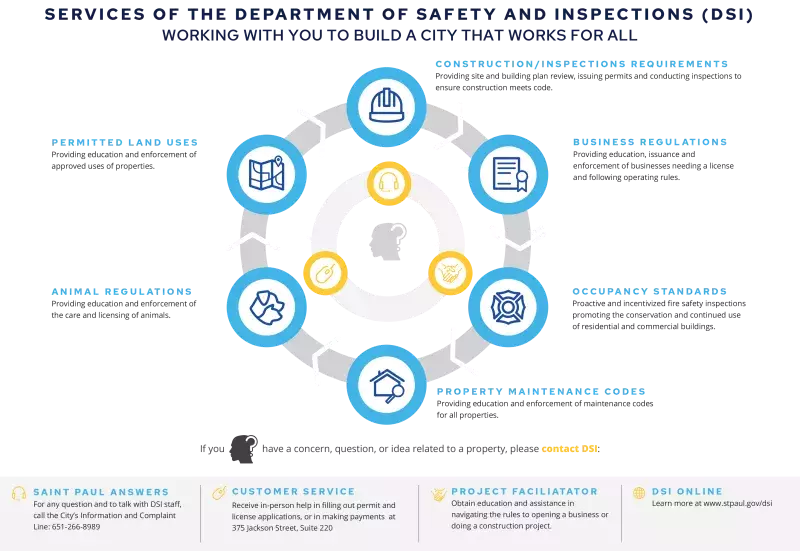 DSI seeks to keep people, animals, and our built environment safe and healthy through the efficient and equitable delivery of services through our eight business lines. 
Our team of Animal Control Officers investigate animal related complaints in the field, enforce city and state laws, handle dangerous or aggressive animals, and rescue animals in need. Animal Control also operates the Saint Paul Animal Control Center, and issues licenses and permits as required by ordinance.
Communications
The City Information and Complaint line, managed by DSI, is the first stop for questions, concerns, and information about the City of Saint Paul. The team also handles marketing and public relations for DSI, and offers administrative support to divisions within the department.
This team includes the Building Official, building inspections staff, Plan Review, and Trades. DSI is here to help you build safe, durable, energy-efficient buildings and spaces.
Customer Services
Customer Service Specialists handle web and in-person transactions for the department, processing all licenses, permits and payments, including certificate of occupancy payments. This team also processes Trade Worker certificates of competency.
Fire Safety Inspectors are responsible for inspections, safety, and habitability in over 23,000 buildings and dwellings in Saint Paul. This includes all commercial and industrial buildings, mixed residential and commercial properties, multi-family dwellings of three units or more and all non-owner-occupied single family and duplex homes. 
DSI's Licensing Division handles more than 200 types of business licenses required by the city. These licenses enable the City to ensure the safety and livability of our neighborhoods by investigating complaints against businesses, taking enforcement actions when necessary, conducting compliance checks for alcohol and tobacco, and regulating charitable gambling. The team also supports businesses as they are opening or expanding, and provides regulatory oversight of the Saint Paul Skyway System.
Code Inspectors play a critical role in maintaining the city's neighborhoods and upholding the standards that help to keep our city such a great place to live and work. Inspectors educate property owners about local and state codes and take enforcement actions as needed. The team also oversees the City's Vacant Building and Truth-in-Sale of Housing  programs.
The authority to make zoning decisions is divided among the Zoning Administrator, the Board of Zoning Appeals, the Planning Commission, and City Council. The City's Zoning Administrator is responsible for interpreting and enforcing the zoning code. The team also coordinates the site plan review approval process, among other responsibilities.