Water Quality Control
Overview

The water from the Mississippi River, the lake system, and the raw water entering the plant, are continuously subjected to bacteriological, biological, physical, and chemical analyses. All analyses is done by professional laboratory staff to determine the treatment required for softening and disinfection. Determination is also made on if the utility's watershed restoration strategies are controlling algae effectively.Factors that may lead to deterioration of water quality are disclosed, and preventative measures are taken.
Taste and Odor Panel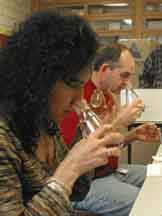 In addition, Saint Paul Regional Water Services has convened a "Taste and Odor Panel" once a week since 1994. The panel of utility employees uses samples of both raw water and distributed water for detection of unwanted odors and smells.The origins of the samples are not known to the panel members. This process can give the utility's laboratory advance warning of any problems in the water system.
Federal Surface Water Treatment Rule
Before the finished water leaves the plant, on-line analyzers ensure compliance with the federal Surface Water Treatment Rule. The water in the distribution system is routinely examined for chlorine residual and bacteriological content in accordance with standards set by the Environmental Protection Agency and the Minnesota Department of Health.