Saint Paul Police Department honors top cops, civilian
They respond to an average of 250,000 service calls per year. They find missing children, investigate fraud and care for people involved in crashes. They work behind the scenes to help keep the city safe.
They are the sworn and civilian employees of the Saint Paul police department.
Today, Saint Paul Police Chief Todd Axtell honored the Officer, Detective and Civilian of the Year.  
The honorees are:
Officer of the year: Jon Sherwood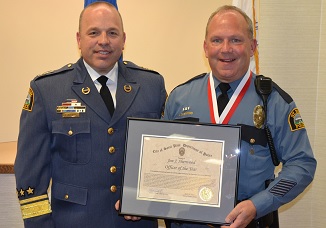 Officer Jon Sherwood was nominated for his professionalism, integrity, and leadership, all of which he has displayed in his 31-year career with the department. He is highly respected for his exemplary police work and initiative.
Chief Axtell praised Sherwood as a positive influence on younger officers who see a senior officer who is still excited, passionate and eager to be on the street.
"Jon has mentored many recruits and has even led an informal orientation after academy graduations, sharing both successes and mistakes with the rookies," Axtell said. "Every day, Jon comes to work he is dedicated to serve the community with the utmost respect—with trusted service with respect—no matter the situation. The rapport he has with our community cultivates and promotes cooperation."
In 2016, Sherwood's diligent work ethic and respectful demeanor were instrumental in the arrest of a suspect who was responsible for numerous bank robberies in Saint Paul and the surrounding suburbs. Sherwood recognized the license plate of a vehicle used in a robbery and spoke with an associate of the suspect. Due to the rapport and trust the officer had developed with the associate, he was able to gain pertinent information that allowed investigators to make an arrest.
"Jon's continuous commitment and heartfelt dedication to our department and the citizens of Saint Paul is what makes him shine as our representative."
Detective of the Year: Sergeant Jim Gray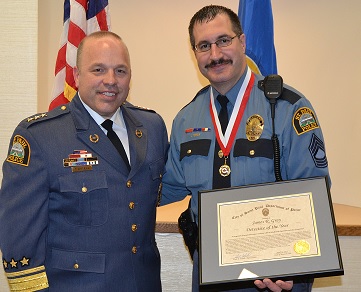 Sergeant Jim Gray was nominated in recognition of his outstanding investigative skills. He is frequently recognized for the relentless of his investigations and is often called upon to work the most complicated cases.
"Jim's work is often not with high profile cases," said Axtell. "However, he investigates each one tenaciously and provides exceptional customer service to each of our victims."
In 2016, Gray was assigned to a case that involved businesses having thousands of dollars of damage done when their rooftop air conditioner units were stripped of their copper cooling units. He worked with metro area scrap yards and eventually identified a suspect. Gray set up a team to follow the suspect, who was eventually caught while damaging an auto parts store. The suspect's entire crime spree of stealing and selling copper to scrap yards was estimated to cause damages in the millions of dollars for many business owners.
In 2016, Gray also worked on a case involving multiple thefts and burglaries in several states. Once search warrants were executed, he worked tirelessly with local agencies and with other states to return the stolen goods to their rightful owners.
"Jim's work as an investigator is greatly respected by his peers," said Axtell. "His diligence and exemplary work has brought justice too many."
Civilian of the Year: Evette Scarver
​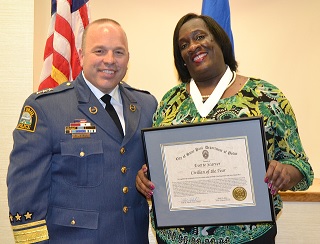 Evette Scarver was nominated in recognition for her exemplary work ethic and dedication to the body camera implementation project. In 2016, the department began planning for the use of body cameras. Scarver was chosen to manage the video management unit due to her knowledge and expertise of data privacy laws.
"This was quite an undertaking, as she was responsible to plan, forecast and set objectives for a new unit and its employees," said Axtell. "As the body camera pilot project moves into reality, Evette continues to take great pride in her work. She ensures the integrity of the unit by teaching the importance and value of video management and how it relates to data privacy."
In 2016, Evette served as a racial equity trainer for the city. She also was part of the city's recruitment committee to help diversify the city's workforce. She is instrumental in talking with employees about how to recognize bias and to not be afraid to challenge inequities.
"Evette is an honored member of our organization and a source of great pride for our department," said Axtell. 
Honorable mentions included Daniel Mack for Detective of the Year, Joseph Sauer for Officer of the Year, and Steve Linders for Civilian of the Year.