Saint Paul police investigating after woman found dead inside Frogtown home
Officers called to investigate a suspicious situation at a house on the 500 block of Charles Avenue made a gut-wrenching discovery Friday evening. In one room they found a woman who appeared to be deceased, in another they found two children who appeared unharmed.
Now members of the Saint Paul Police Department are investigating the city's 13th homicide of the year.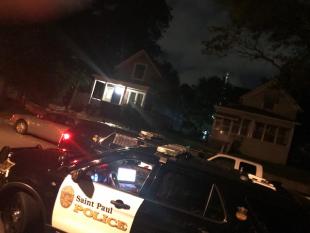 At about 9:25 p.m. someone called 911 to report that a mother had failed to pick up her child from daycare—and no one was answering the door at the mother's home. When officers arrived, they saw blood inside the house and found the gravely injured victim. 
The officers quickly secured the children, made sure there was no one else in the house and called Saint Paul Fire medics to the scene. They pronounced the victim dead without transporting her to the hospital.
Investigators are currently working to locate potential witnesses, gather evidence and determine who is responsible for the killing. Anyone with information about this case is asked to call the department's Homicide Unit at 651-266-5650.
The Ramsey County Medical Examiner will conduct an autopsy on the victim to positively identify her and determine an exact cause of death. That information, along with any updates on the case, will be released on the Saint Paul Police Department's Twitter account (@sppdmn) when it becomes available.
No arrests have currently been made in this case.