Tree Gnome Scavenger Hunt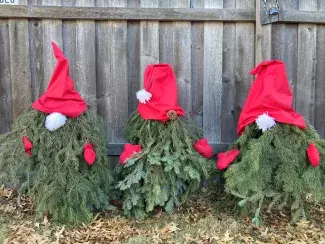 It's a #Gnomevasion! The Tree Gnomes have taken over our parks and green spaces (okay soon to be snow capped spaces)! The Tree Gnomes are hidden throughout our parkland so our parks & rec crew have teamed up to help you hone in on their locations (Tip: pay close attention to their names!). Look for a small evergreen with a red hat, red gloves, and a little nose (that could either be made of a white puff or pinecone). Post a selfie with the Tree Gnome and use hashtag #stpgnometakeover--shhh, be careful not to give away the location in your photo!
There are ten Tree Gnomes who have settled down in ten different parks within Saint Paul city limits. One Golden Gnome will travel from park to park each week. The Golden Gnome will magically move after sundown on Sunday, and reappear in their new location on Monday morning. We'll announce the next Golden Gnome clue the Friday before it moves. Can you find the whole Tree Gnome family? 
Update: The Tree Gnomes will move on from our Saint Paul parks after January 17, 2021. Who knows where their next destination will be--someplace warmer perhaps? We hope to welcome back these Tree Gnomes to our green spaces again soon! 
Golden Gnome Clues (will move between parks each week)
Gnome Name
Park Clue
Gnome Clue (location within the park)

Goldy, the Golden Gnome
(Jan 11-17) LAST LOCATION!

The opposite of low is where you should go

A bridge in the distance extends,

Look for a place where there is space

For some of man's best friends.

I was lost in the park but came upon a sign

And luckily found a clover, 

Maybe my luck will change as I sit and wait 

For a chance to say "Hi" to Rover.

Goldy, the Golden Gnome
(Dec 28-Jan 10)

Grab your sled, mountain bike

Or cross country ski's, 

If you know the Eastside

You'll find this park with ease. 

(Goldy has taken an extended holiday at this location and will be here through Jan 10.) 

That's no troll atop the knoll, 

It's the Golden Gnome! 

They like the view and you will too, 

Once you find it's home. 

Goldy, the Golden Gnome
(Dec 21-27)

Home of a small lake 

Named for a mashup of intersecting streets, 

Sit back and relax 

With a nearby local legend's chilly treats. 

(Psst: The answer was Marydale Park. Goldy has moved on but we still encourage you to go visit and explore!)

In view of a small pier 

Where you may wish to sit and ponder, 

Our Goldy may be near 

As it sets itself out to wander. 

Goldy, the Golden Gnome
(Dec 14-20)

From 4th in the Park to Easter Egg Drops  

This park produces hits, 

In a small neighborhood on the west side of town  

Is where this hidden park sits

(Psst: The answer was Langford Park. Goldy has moved on but we still encourage you to go visit and explore!)

It's sad to think, no ice on the rink

But soon our skates we'll sharpen, 

Goldy realized "My belly is empty" 

So they went to the Edible Garden.
Gnome Clues (will stay in their respective parks)
Gnome Name
Park Clue
Gnome Clue (location within the park)
River

Where a trickle of water cascades 

An adventurous gnome does wander,  

In a location known for being concealed 

He sets himself to ponder. 

Walk the smooth pass 

Away from the falls, 

Beyond the grass 

The Mighty Mississippi calls. 

Dragon

Winter's come home 

Summer's out of reach, 

Look for this gnome 

At a park with a beach. 

Under watchful eye 

Near the garden of our sister, 

If you looked toward the lake 

You wouldn't have missed her. 

Hewitt

With back turned towards  

The piercing sounds of industrial clatter, 

A gnome does frolic in this pillar of parkland 

Where hills roll and oaks scatter. 

Among bramble and bush 

Not far from where children play, 

A gnome sits cozy and snug, 

Day dreaming his life away. 

Clarence

Not truly surrounded by bodies of water 

The name is surely a sham, 

Yet which namesake does Miss Bishop honor 

This park is home to the giant clam. 

Tucked away in the heart 

Of tree trunks formed in a cluster, 

A gnome is calmed by the soft sound of boats 

And mesmerized by the Mississippi's luster. 

Rainbow 

Home to the dragonfly festival 

Next to train tracks and creek,  

In this preserve located in the heart of urban splendor 

Lives the happy little gnome that you seek. 

Yonder by bridge and brook 

No, that is not a troll that you see, 

Tucked cozily in his nook 

Is where this solitary gnome will be. 

Bing 

You won't have to look any further 

On a road that is named like a herder, 

Home to Bdote, but you won't have to float 
To find this gnome in order. 

The water is frozen on the nearby lake 

That is certainly not lower, 

The gnome is near wetlands and a pier 

Ready for each park goer. 

Booya

Discs fly through the air with the greatest of ease 

You can find kids on a flying trapeze, 

Listen quite close to hear the calling of "fore" 

Go to this park to find so much more. 

With so much to see and so much to do 

Life is surely a picnic, 

Splashes in earshot and bridge in view 

A happy spot this gnome did pick. 

Svenska 

Tucked away in a valley 

Or is it a hollow? 

Sweet-ish history abounds 

Along the paths that you follow. 

From Stonehenge to stone bridge 

The gnome that you seek, 

Is tucked away somewhere 

Near a babbling creek. 

Sparky

With sport, amusement, 

And wild animals all at hand, 

Glistening waters are the icing on the cake, 

Of this beautiful parkland.  

In a place considered quite a Hamm 

Of this park's many points of interest, 

A tranquil gnome enjoys the water's sounds 

As he catches up on his rest.  

Kermit

Please don't panic, it's certified organic 

In this vibrant community scene, 

There isn't much harm in a community farm

Whose mascot is the color green.  

Viewed from between two trees 

Church steeple the horizon does break, 

Follow the rising sun beyond the trail 

For the home this gnome does take.