Tree Gnome Scavenger Hunt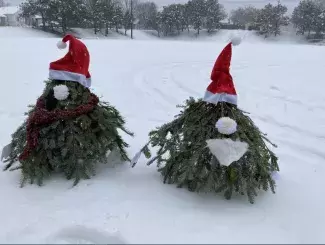 Update: The Tree Gnomes have moved on from our Saint Paul parks but we hope to welcome back these Tree Gnomes to our green spaces again soon! If you enjoy scavenger hunts, make sure to check out Como Quest! (And if you were curious for the answers, they are listed in the table below!)
They're baaaaAAAack! We have another #Gnomevasion on our hands!! The Tree Gnomes have taken over our parks and green spaces (well, now snow covered spaces). The Tree Gnomes are hidden throughout our parkland so our parks & rec crew have teamed up to help you hone in on their locations. (Tip: Pay close attention to their names!) Look for a small evergreen with a red hat, white nose, and either accessorized with a beard or a scarf. Post a selfie with the Tree Gnome and use hashtag #stpgnometakeover--shhh, be careful not to give away the location in your photo! 
Some of you may remember the last time the Tree Gnomes made their homes in Saint Paul in winter 2020-2021. Upon their return, you'll discover some similarities and differences to this scavenger hunt. There are eight Tree Gnomes who have settled down in eight different parks within Saint Paul city limits (some of these may have returned to the same park as last time, and some may be new homes the Gnomes have discovered). There is one especially tough "frozen gnome", hidden deep in on of Saint Paul's largest parks--Crosby Farm Regional Park (so that gnome clue will help you hone in on it's location within the park.)
The Gnomes are hiding in some of Saint Paul's best places to take a winter hike or walk. This is a fun activity for all ages and a great opportunity to get out and about in the beautiful cold-weather season. Can you find the whole Tree Gnome family? 
(Having trouble with a clue? Reach out to nate.kastle@ci.stpaul.mn.us if you're stuck and want an extra hint.)
Happy hunting!
Gnome Clues 
Gnome Name

Park Clue

Lil' Yachty (ANSWER: Lake Phalen, by the waterfall)

TLC will have you chasing these

Between lakes where the lily pad grows

You'll be wailin' if this hunt you are failin'

Find the gnome with the puffy white nose

Ozo (ANSWER: Como Zoo & Conservatory, the Centennial Garden)

Enchanted gnomes have thrived for over 100 years 

And this gnome's location is no different

All the friends that gather here make this site magnificent

No matter what pack you roll with, you'll always be welcomed here

Cher (ANSWER: Cherokee Regional Park)

I'll give you a hand, we're on Native land

The views are all up to snuff

Don't mess around you could tumble on down

'Cause you're high up top on a bluff

Heidi Tumbles (ANSWER: Hidden Falls Regional Park)

Don't dismiss this Miss!

-the gnome that you seek

Stay away the river lest you'll shiver

Instead head upstream along the creek

Snoopy (ANSWER: Meeker Island Dog Park)

The gnome that you seek, which is not for the meek

Lays where the trees have bark that is rough

Watch your step if there's drizzle, you'll tumble for shizzle

Once you get there the rest won't be tough

Meatball (ANSWER: Swede Hollow Park)

Across the street from the pasta with meat

The sauce is not red but it's white

A creek and some deer, some babbling you'll hear

While you search for the gnome in the light

Clay (ANSWER: Western Sculpture Park)

You'll holler yee-haw and drop open your jaw

When you see what creations are here

A rabbit, a rock, a thing if you talk

Will louden the sound to your ear

Homer St. Harkom (aka "the frozen gnome") (ANSWER: Crosby Farm Regional Park, entrance to the slot canyon)

This gnome is located within Crosby Farm Regional Park, and the clue is a hint to it's location within that park!

To find the home of this frozen gnome

-a sight you sure ought to see!

Walls tall and serene, climb through the ravine

Be prepared for this great Odyssey
If you enjoy scavenger hunts, make sure to check out Como Quest!