Ward 7 - Councilmember Prince
About Ward 7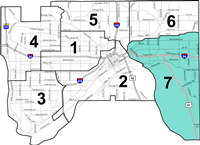 Green and growing Ward 7 includes the neighborhoods of Dayton's Bluff, Mounds Park, Swede Hollow, Battle Creek, Highwood, Conway and Eastview. From the historic urban homes in Dayton's Bluff Historic District to the wooded winding roads and wildlife in Highwood Hills, Ward 7 has something for everyone. Did you know Ward 7 also has the largest amount of open space in the City? Battle Creek Regional Park is a huge multi-use parkland, and Pig's Eye Lake and the Bruce Vento Nature Sanctuary are examples of successful reclamation projects that will preserve Saint Paul's natural resources for the future.
Resources for residents
Saint Paul has a District Council system designed for neighborhood engagement and participation. Get in touch with your District Council to find out how you can be involved.
Dayton's Bluff Community Council includes Dayton's Bluff, Mounds Park and Swede Hollow
District One Community Council