Ward 7 - Councilmember Prince
About Ward 7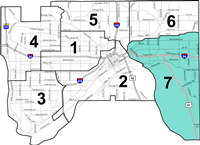 Green and growing Ward 7 includes the neighborhoods of Dayton's Bluff, Mounds Park, Battle Creek, Highwood, Hazel Park, Conway, Scenic Hills, and Sunray. We have great restaurants, shopping and housing options due to our proximity to freeways, employment and arts and cultural venues. Did you know Ward 7 also has the largest amount of open space in the City? Battle Creek Regional Park is a huge multi-use parkland, and Pig's Eye Lake and the Bruce Vento Nature Sanctuary are examples of successful reclamation projects that will preserve Saint Paul's natural resources for the future.
Make yourself at home in Ward 7
The Dayton's Bluff District 4 Community Council wants you to find your next home in Ward 7! If you're willing to add some hard work, home prices are more affordable than they've been in years, and Ward 7 has a wide variety of houses available, including some historical gems. Contact the Dayton's Bluff District 4 Community Council at 651-772-2075.