Flood Information
2019 Flood Season in Saint Paul
This page contains information about spring flooding of the Mississippi River and the City of Saint Paul's flood response.
Flood Update - May 13, 2019
Shepard/Warner Road between Eagle Parkway and Childs Road in Saint Paul reopened to traffic the evening of May 10.  The road has been closed since March 24 due to flooding along the Mississippi River. Ramsey County crews have cleared debris from the roadway and inspected the road and its underlying structures to determine that it's safe to reopen to traffic.
In conjunction with the reopening of Shepard/Warner Road, Saint Paul Public Works reopened Sibley and Jackson streets from Warner Road to Kellogg Boulevard.
Water Street, located on the west side of the Mississippi River, still has water on portions of the roadway and will remain closed until further notice.
All of the city's floodplain parks, including boat launches at these sites, remain closed. This includes: Meeker Island Dog Park, Raspberry Island, Harriet Island, Crosby Farm, Lilydale and Hidden Falls Regional Parks. City staff is conducting assessments and necessary cleanup.
For more information and updates:
---
Flood Forecast from the National Weather Service
For the most up to date flood forecasts, please visit the National Weather Service website.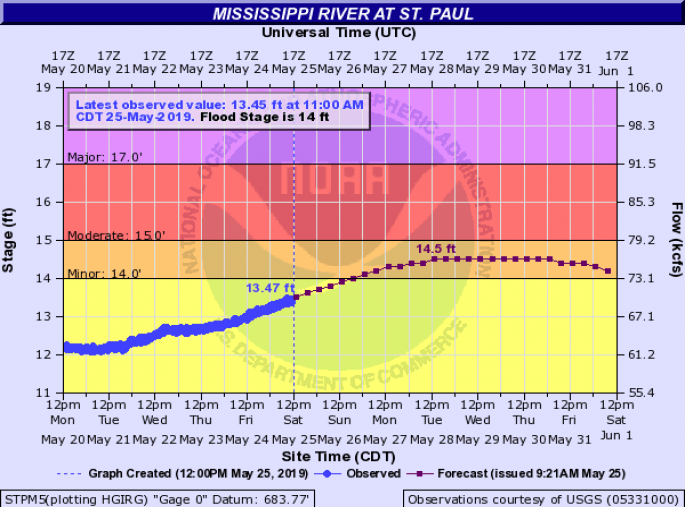 Flood Impacts
13.3 feet: Water encroaches on Water Street
14 feet: Minor Flood Stage
14 feet: Lilydale Park area begins to become submerged
15 feet: Moderate Flood Stage
17 feet: Major Flood Stage
17.5 feet: Harriet Island begins to become submerged
18 feet: Shepard / Warner Road may become impassable
---
River Cam
---
Road Closures
Saint Paul Public Works maintains the list of current road closures.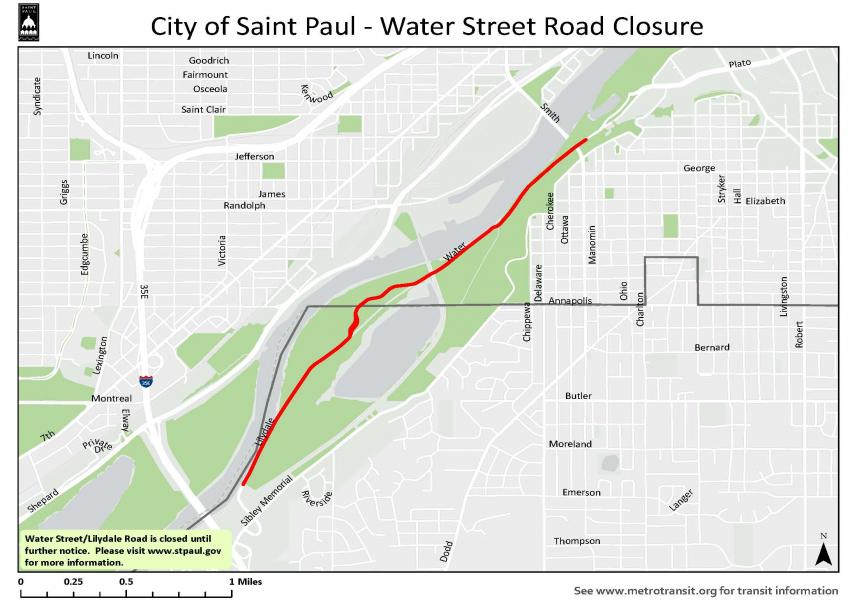 Road Closures have been submitted to Waze and Google Maps (turn on the traffic layer) to assist with in car navigation. Use this as a reference while driving, but please always refer to St. Paul Public Works for the official list of current road closures.
---
Parks Closures
Saint Paul Parks & Recreation lists their current park closures here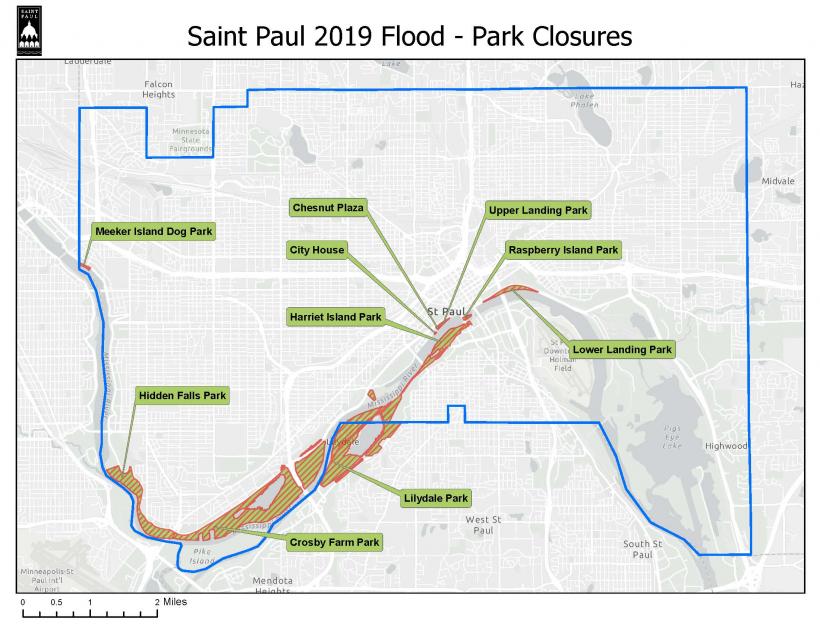 As of 3/25/19, Meeker Island Dog Park, Hidden Falls, Crosby Farm, Harriet Island, Raspberry Island, and Lilydale Regional Parks, including boat launches, are closed due to Mississippi River flood waters.
---
Saint Paul Police Impound Lot
For more information from the Saint Paul Police on the Impound Lot and procedures, look here.
---
Other Information
Local Flood Emergency Declaration
The City of Saint Paul declared a local flood emergency on March 20, 2019, in preparation for forecasted spring flooding. This procedural declaration, which is a part of Saint Paul's flood response plan, empowers the city to quickly mobilize resources to protect residents and infrastructure related to Mississippi River flood conditions.
This declaration permits Saint Paul Emergency Management to request and coordinate the appropriate aid and resources from surrounding jurisdictions, including the Ramsey County Division of Emergency Management, Homeland Security, and the State of Minnesota as needed.
It also permits city departments to quickly mobilize available resources and conduct immediate purchasing and contracting. The declaration also ensures the city can qualify for reimbursement should a federal declaration be declared.
Information for recovery after the flood
---
Looking to volunteer?
If you are interested in volunteering to help with flood response or for any disaster, please check out our volunteering page with information on some of the many Volunteer Organizations Active in Disaster (VOAD). 
There are many organizations and opportunities, so look for one that interests you here.
---
How to use sandbags for flooding
Where to buy sandbags, sand, or gravel
Disclaimer: The City of St. Paul does not endorse one of these companies over another, nor does it verify the inventory of each.  The companies are listed in alphabetical order. More companies or stores may offer these products for purchase as well. This information is gathered and presented as a courtesy and for informational purposes only.
Sandbagging 101 info sheet and how to design a sandbag levee from the US Army Corps of Engineers
North Dakota State University has information online about how to build a sandbag dike, along with the proper design, location and how many sandbags you might need.
What should you do with sandbags after a flood?