Job Feature: Communication and Community Engagement Coordinator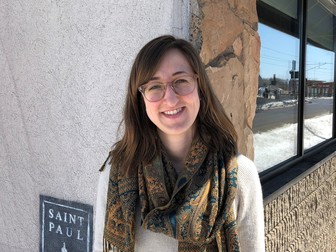 Lisle - Coordinator
Q: How do you support the mission of your organization?
Sprockets is Saint Paul's out-of-school time network, and our mission is to increase the quality, availability, equity, and effectiveness of out-of-school time learning for all youth in Saint Paul by working collaboratively. We are a strong network of organizations serving young people in Saint Paul, and communication is what holds our network together. My communications role is key for getting the word out to our partners and Saint Paul families about opportunities for young people. I write newsletter content, share research and opportunities through social media, and write grants to help raise awareness about the importance of after school.
My evaluation work also helps keep our organization strong – making sure that we are meeting the needs of our partners and continuously improving our work to do better. I love that my work brings people and partners together around a shared vision of supporting young people in Saint Paul!  
Q: What is great about your job? 
In my role, I get to advocate for an issue that I'm passionate about! I love that I get to work alongside smart, driven coworkers and youth workers who are all working to do better for Saint Paul's youth. It's really fun for me to learn about, support, and celebrate the great work happening in the after school field here.
I also love that I get to do a really wide variety of things in my job. Working with a small staff team means that I always get to take on new projects and learn new skills. I enjoy being out in the community learning about after school programs and helping support their work. A highlight for me is also when I get to work with young people themselves on issues that matter to them. A wide variety of responsibilities keeps my job interesting and engaging!  
Q: What skills and abilities are essential for being successful in your current role?
Clear communication and writing skills are very important in my role for Sprockets. I write everything from newsletters to website content to grants supporting our work. But my job duties go beyond communications! Because we have a small staff team, it's important for me to able to manage multiple projects and be flexible enough to take on new challenges, and to be comfortable working collaboratively with others but also completing projects independently.
We are hiring for Communication and Community Engagement Coordinator. For more information or to apply, click on http://bit.ly/2OoVLip. Application deadline is 10/28/2019, 4:30 PM Central.
Created on 04/17/2018; Updated on 10/21/2019.