Project Overview
This project encompasses an approximate .5-mile multi-use bituminous trail along the west side of Hamline Avenue betweenWest Highland Parkway and Montreal Avenue. The scope of work for this trail project includes a multi-use trail, ADA upgrades along Hamline Avenue, stormwater management, and landscape restoration. 
Funding has been secured from the STAR (Sales Tax Revitalization) Program.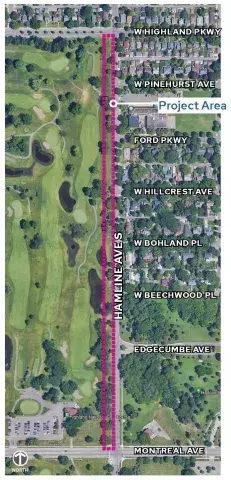 Tentative Schedule:
2023
June: Design Development
July: Construction Documents
August: Bidding
September: Construction Contract (pending bids)
October: Construction Begins
Construction anticipated to be complete by the end of 2023.
Note that other reconstruction projects are occurring near this project site this year. Information about the Griggs-Scheffer Reconstruction project can be found HERE.