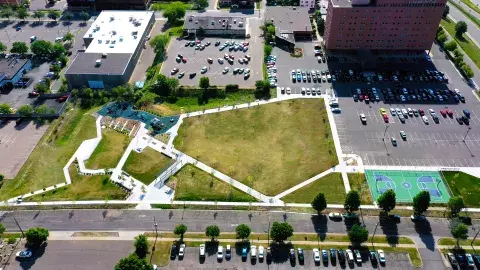 Overview
A new neighborhood park is nearly complete in the Midway area, at 416 Griggs Street between University Avenue and St. Anthony Avenue. This area is diverse, but recognized as lacking parks and green space. Midway Peace Park (formerly referred to as the Park at Griggs) is part of the City of Saint Paul's long-term vision to create vibrant outdoor gathering spaces that strengthen community connections along the Green Line. The park will serve both as a destination along the Green Line, which has few parks along its route, and as an important local park for the neighborhood, Gordon Parks High School, High School for the Recording Arts, and residents of the adjacent Skyline Tower.
The new three acre park will provide a play area, walking loop, mosaic art by local artist Lori Greene, benches for sitting under the shade of new trees, a unique stormwater channel and infiltration ponds, as well as a full basketball court.
Quick facts on the park design:
Replaced over 2 acres of paved surface with much-needed green space
Preserved 18 trees
Removed 14 trees (of which about 8 were self-seeded cottonwood, boxelder, and ash)
Removed an additional 11 trees in the parking lot, which were stunted and over half were dead prior to construction
 Planting will occur in summer 2020 and includes:
57 deciduous shade trees, 9 ornamental trees, 7 coniferous trees
Total of 73 new trees planted
Additionally, the park provides storage and allows infiltration for over 370,000 gallons of stormwater (which is over half of an Olympic swimming pool).
Project Updates
Current Status
Join Saint Paul Parks and Recreation, and our partners the Trust for Public Land, Capitol Region Watershed District, and community partners Friends of Midway Peace Park in celebrating the Grand Opening! 
Tuesday, June 15th, 3:00 pm to 6:00 pm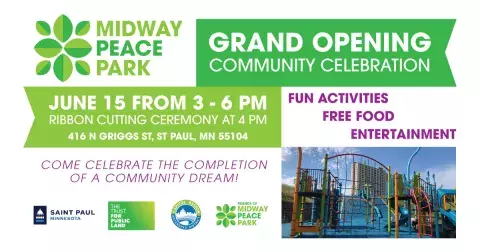 Midway Peace Park has reached substantial completion and is open to the public. Final acceptance from the contractor will occur in summer 2021. 
November 23rd, 2020 - the basketball court is being re-surfaced and is temporarily closed to the public. Final court surfacing paint will be applied in spring 2021. 
Construction resumed August 31st 2020! The City has received a start date to utilize grant funding from the Outdoor Recreation Legacy Partnership (ORLP) program, which is a competitive, nationwide grant program funded through the Land and Water Conservation Fund (LWCF).
June 2020: The construction work must pause until the City receives needed approvals to use the grant funds. As of June 1st, 2020, most construction with the exception of maintenance and site stabilization, has paused. This page will be updated when we confirm work can continue. 
Our general contractor is LS Black, who has worked on site since construction began in August 2019. Our playground is installed by Flagship Recreation. 
Project Leadership & Key Partners
The City of Saint Paul - Parks and Recreation Department and Trust for Public Land are sharing leadership of this project, however the City is responsible for construction.  Other partners include Union Park District Council, Gordon Parks High School, Hamline-Midway Coalition, Lexington-Hamline Community Council, CommonBond Communities, and many others.
The Trust for Public Land acquired three parcels of land from separate landowners and conveyed them to the City of Saint Paul in early 2016. Funding came from private funds raised by the Trust for Public land and the city's 8-80 Vitality Fund.
In 2016 to 2018, The Trust for Public Land engaged the community through "park listening" and raised funds to develop the park. To guide the creation of the park, a creative community engagement approach has been utilized -- a cooperative, community-based process that focuses on identifying the cultural and neighborhood values and desired park features to inform the design of the park.
Do you want to support building the park?
Help Support Midway Peace Park
Design Advisory Committee Meetings
Meetings were held near the future park, and were open to the public. Committee members were invited in the spring of 2018 and served as representatives from nearby apartment buildings, businesses, and neighborhood councils. Our committee met on the following dates:
Past Milestones
2014 – Park area included in Greening the Green Line Guidebook
2015-2017 – Community engagement and park listening
December 2015 – First two parcels of land acquired by The Trust for Public Land
February 2016 – Final parcel of land acquired by The Trust for Public Land with private funds and all three parcels donated to the City of Saint Paul
Complete fundraising – fall 2018
Determine name for the park with community input – October 2017 – January 2018
Midway Peace Park name adopted by City Council - March 21, 2018
Design Advisory Committee held three meetings to determine park program, components, and design layout - March - June 2018
Open House to show refined park concept – September 29, 2018 (see above for details)
Project Timeline
Re-bidding was completed in July 2019
Contractor selected late July to early August 2019
Park construction – late summer 2019 to summer 2021
Park Design Images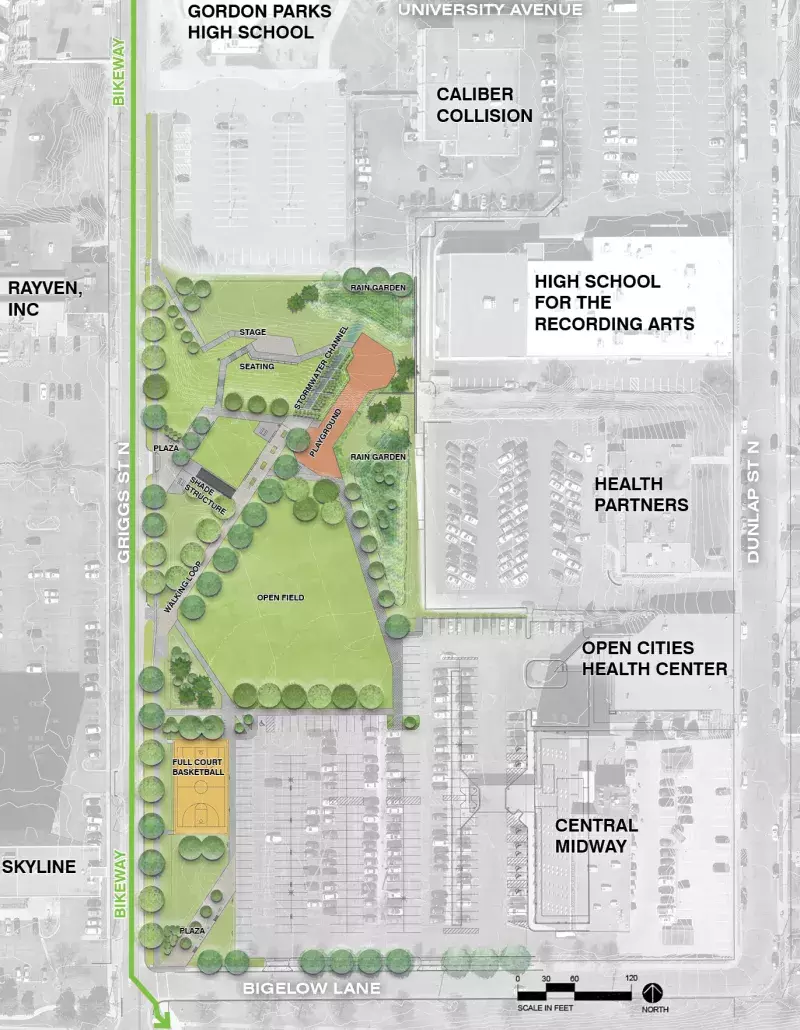 Links to more design information: