Saint Paul Dog Parks
Saint Paul currently has four off-leash dog parks. Dogs are only allowed off-leash in the four dog parks listed below.
Arlington/Arkwright Dog Park
Located on the corner of Arlington Ave and Arkwright St, the rectangular 4.5 acre plot of land provides wooded trails, open space, and a large bowl-shaped slope for dogs to roam around in.
High Bridge Dog Park
This seven acre plot of land, the site of a former power plant fueled by coal, was generously given to the City of Saint Paul and transformed into a beautiful dog park following a May of 2012 clean-up. Just west of Upper Landing Park, High Bridge Dog Park provides ample space for dogs and their caretakers.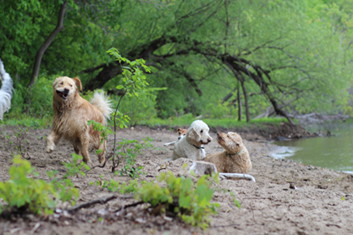 Meeker Island Dog Park
The Meeker Island Dog Park is located adjacent to Meeker Island Historic Lock and Dam site, the first and northernmost lock and dam on the Mississippi. The site is located just west of the intersection of Eustice Street and N Mississippi River Blvd near the border of Saint Paul and Minneapolis. The park is located along the river at the bottom of the bluff and can be accessed from the entrance along the Mississippi River Blvd trail. It features a dog run and a dog beach. There is no fence surrounding the park, which is bordered by the Mississippi River and the steep river bluffs.
Please note, Meeker Island Dog Park may close in the event of high waters on the Mississippi River. Please see the Closures and Special Notices page for updates.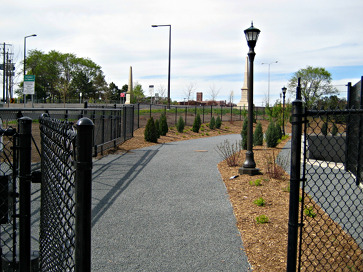 Lowertown Dog Park
Located near CHS Field, Lowertown Dog Park is completely fenced in and is a designated off-leash area.