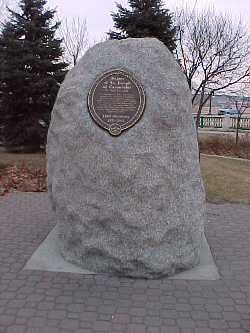 Artist Name: Edwin H. Lundie
Media: 3 Reliefs: Bronze; Base: Boulder
Date Created: 1941
Location: Kellogg Mall Park
History: While transporting the eighteen ton stone to Kellogg Mall Park, the axle of the 3.4 ton truck broke from the weight.  However, the memorial finally arrived two days later on June 9, and the city held the dedication the following day.  
In 1841, Father Lucien Galtier, a French Catholic missionary, built the Church of Saint Paul on the bank of the Mississippi River.  This chapel rested on the site of the present City of Saint Paul, which was named after the chapel.  Before this time, the area had been called Pigs Eye after the saloon proprietor Pierre "Pigs Eye" Parrant.  
Born in Cedar Rapids, Iowa, in 1886, the architect Edwin H. Lundie moved to Saint Paul in 1904.  He designed over three hundred projects in Saint Paul, including residences for many of Saint Paul's wealthy citizens.  He died in 1972, at age eighty-five.