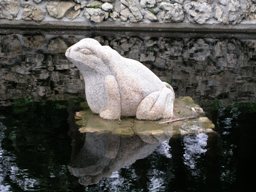 Artist Name: Unknown
Media: Granite; Base: Cement
Date Created: 1/1/1923
Location: Como Park Lily Pond
History: In 1910, shortly after the 1904 World's Fair in St. Louis, architect Yukio Itchikawa designed a Japanese Imperial garden in Como Park.  The only remaining vestige is a large granite bullfrog, which has no particular symbolism in itself.  Fred Crosby donated the frog, originally part of the Crosby estate which overlooks the Mississippi River, to Como Park when he inherited his father's estate.  Upon the removal of the gardens to make room for the golf course in 1928, the park moved the frog to its present location in the pond.