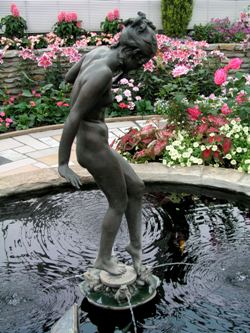 Artist Name: Harriet W. Frishmuth
Media: Bronze with light blue patina
Date Created: 1/1/1925
Location: Como Conservatory- Sunken Garden 
History: In 1925, Harriet Frishmuth created this bronze sculpture in the Beaux-Arts Style, which is characterized by a lively naturalism reflecting the optimism at the turn of the century.  Born in Philadelphia, Pennsylvania in 1880, Frishmuth pursued art in Paris, Berlin, and New York.  She began sculpting bookends, ashtrays, and figurines and progressed to larger portraits of female dancers, often as fountains.  In 1916, Frishmuth met Desha Delteil, a popular concert dancer, whom she used as a model for many of her most successful sculptures.  Because of the Great Depression, she moved from New York back to Philadelphia.  She received several awards before she died in 1980, in Connecticut, at the age of ninety-nine.