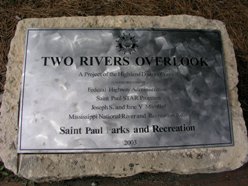 Artist Name: Philip Ricky and Jody Martinez
Media: Stone
Date Created: 2004
Location: Highland Park
History: Philip Rickey and city landscape architect Jody Martinez designed these sculptures, which consist of three stones, two as sentinels and one lying down as a bench.  These adorn an overlook of the merging of the Mississippi and Minnesota rivers and Fort Snelling.  The site also narrates some history of the area.  The Highland District Council, aided by funding from the federal scenic byways program, Saint Paul STAR, and Joseph and Jane Micallef, initiated this project.  Rickey carved the stones and created the interpretive elements that map the history of this view.  
Rickey, a Saint Paul based sculptor, served as a professor at the Gustavus Adolphus College from 1997 through 1998.  He also designed the symposium site for the Public Art Saint Paul Minnesota Rocks!