Highland Park Aquatic Center
About Highland Park Aquatic Center
Open June 8 - September 2, 2019
Highland Park Aquatic Center offers a two-story water slide, lap swim pool, children's splash pad, diving boards, aquatic climbing wall, party rentals, concessions, swimming lessons and more.
Swimming Lessons
Amenities and Features
50-Meter, 8-Lane Lap Pool
Equipment Available for Lap Swim & Water Aerobics
Life jackets Available to Rent for Free
Children's Activity Pool with Age-Appropriate Features
Prehistoric Whale Bone Splash Pad
Aquatic Climbing Wall
One-Meter Diving Boards (2)
Drop Slides (2)
Large Two-Story Water Slide (1)
Men's, Women's, and Family Locker Rooms
Concessions
Designated Eating Areas
Cabana Shelters Available for Rent for Parties
Admission Fees
Daily Fees
 
Under 48"
$6
Over 48"
$7
Family (up to 5 members)
$24
*Each Additional Member
$4
Deck Fee (non-swimming)
$4
Infant (Under 1 year old)
Free
Daily Group Rates (10+ People)*
 
Under 48"
$5
Over 48"
$6
*Groups of 25+ can get an additional $.50 off per ticket if they call ahead. 
Hours
June 8 - September 2, 2019*
Activity
Lap Swim
Water Aerobics
Swim Lessons
Open Swim
Sunday
9:30-10:30am
10:30-11:30am1
 
11am-7pm1
Monday
5-6:30pm2
10-11am3
9am-12pm
12-8pm2
Tuesday
7:45-9am,
5-6:30pm2
10-11am3,
5-6pm2
9am-12pm
12-8pm2
Wednesday
5-6:30pm2
10-11am3,
6:30-7:30pm4
9am-12pm
12-8pm2
Thursday
7:45-9am,
5-6:30pm2
10-11am3,
5-6pm2
9am-12pm
12-8pm2
Friday
5-6:30pm2
10-11am3
9am-12pm
12-8pm2
Saturday
9-10:30am
10:30-11:30am1
 
11am-7pm1
Open Swim on Sat/Sun begins at 11am in Dive Well, Children's Activity Pool, Large Slide and Splash Pad. Open Swim in the Lap Pool does not begin until Water Aerobics ends at 11:30am.
M-F from 5-6:30pm Lap Swim and Water Aerobics share the Lap Pool and only the Dive Well, Children's Activity Pool, Splash Pad, and Large Slides are available for Open Swim. Open Swim will resume in the Lap Pool at 6:30pm.
M-F morning Water Aerobics is held at the same time as Swim Lessons and share space with that program.
Wed night Water Aerobics is a Deep Water Class.
*No lap swim or water aerobics on June 8. Diving well and main pool will close all day June 15 & 16. Holiday hours for July 4 and September 2: Lap Swim 10:30am-12pm, Open Swim 11am-7pm.
Punch Cards & Memberships
Do you love Como Regional Park Pool, Great River Water Park, and Highland Park Aquatic Center? Consider purchasing a membership or punch card for discounted admission rates!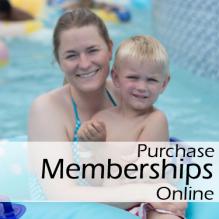 Family Fun & Fitness Fridays
Admission is just $2 on June 21, July 19 & August 6!
Rentals & Parties
Interested in birthday party packages, sun shelter rentals, private parties, or other special reservations? Visit our Rentals & Parties page.
Photos