Highland Park Aquatic Center
About Highland Park Aquatic Center
Thanks for a great summer! We are now closed for the 2019 season. See you next year! Until then, please visit our indoor facility Great River Water Park. 
Highland Park Aquatic Center offers a two-story water slide, lap swim pool, children's splash pad, diving boards, aquatic climbing wall, party rentals, concessions, swimming lessons and more.
Swimming Lessons
Amenities and Features
50-Meter, 8-Lane Lap Pool
Equipment Available for Lap Swim & Water Aerobics
Life jackets Available to Rent for Free
Children's Activity Pool with Age-Appropriate Features
Prehistoric Whale Bone Splash Pad
Aquatic Climbing Wall
One-Meter Diving Boards (2)
Drop Slides (2)
Large Two-Story Water Slide (1)
Men's, Women's, and Family Locker Rooms
Concessions
Designated Eating Areas
Cabana Shelters Available for Rent for Parties
Admission Fees
Daily Fees
 
Under 48"
$6
Over 48"
$7
Family (up to 5 members)
$24
*Each Additional Member
$4
Deck Fee (non-swimming)
$4
Infant (Under 1 year old)
Free
Daily Group Rates (10+ People)*
 
Under 48"
$5
Over 48"
$6
*Groups of 25+ can get an additional $.50 off per ticket if they call ahead. 
Hours
Closed for the 2019 season.
Punch Cards & Memberships
Do you love Como Regional Park Pool, Great River Water Park, and Highland Park Aquatic Center? Consider purchasing a membership or punch card for discounted admission rates!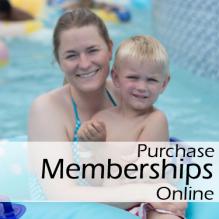 Family Fun & Fitness Fridays
Admission is just $2 on June 21, July 19 & August 16, 2019!
Photos