Environmental Education
About Environmental Education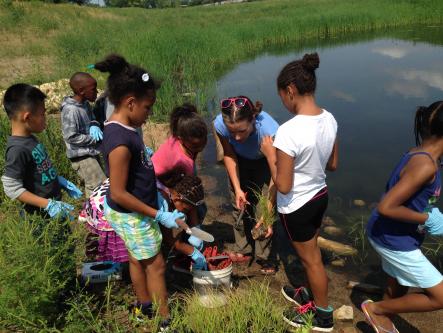 We offer a variety of outdoor recreation and nature-based activities, primarily in Saint Paul's regional parks. Come out and explore the nature of Saint Paul with us!
Public Programs
CLICK HERE FOR CURRENT OFFERINGS
Join the Explore Outdoors Saint Paul Meetup to find out about year-round outdoor and nature-based events in Saint Paul. Activities are free or low-cost, and equipment is typically provided. 
Past examples include:
Nature play meetups
Preschool nature classes
Outdoor literacy activities
Interpretive tours
Wildlife surveys
Outdoor recreation (e.g. birding, fishing, hiking, snowshoeing, geocaching)
Special events for the whole family
Group Programs
Park Ambassadors - We work with groups underrepresented in Saint Paul's regional parks to learn about their interests, address barriers to park use, and introduce them to park amenities.
In-hive honey bee classes - Interested in learning about honey bees? Contact us to learn about opportunities to put on bee suits and get a close-up view of a bee colony.
sPARK

 summer youth program - Youth from low-income households and communities of color explore regional parks, learn about ecosystems and water quality, and become environmental stewards.
Resources
Looking for support and resources for bringing your family or students outside in Saint Paul's regional parks? Connect with us to learn about:
Initiatives
Cities Connecting Children to Nature - Saint Paul was selected as one of seven cities nationally to receive a planning grant to better connect children to nature. In partnership with the National Park Service, the YMCA of the Greater Twin Cities, ANEW BAM, Urban Roots, and CLUES, we are conducting a community assessment to uncover strategies for an implementation plan.
Supporters
We are grateful for support from the Clean Water, Land and Legacy Amendment; Capitol Region Watershed District; Cities Connecting Children to Nature partners; Minnesota Historical Society; Cargill; and REI.