Citywide Spring Cleanup
4/27/19: The Citywide Spring Cleanup is on as planned.
Join forces with family, friends and neighbors for the 33rd annual Citywide Spring Cleanup!
When: Saturday, April 27 | 9-11:30 am
Why: Each year, hundreds of volunteers gather across Saint Paul for the Citywide Spring Cleanup to pick up garbage/litter/trash that has recently become exposed due to the melting snow.
Who: Individuals and groups of all ages come together to help beautify the city of Saint Paul.
Where and How: Participating is easy! Register below, and then drop by your selected CLEANUP SITE any time between 9 and 11:30 am, to pick up bags, gloves, snacks and meet your neighbors and community members. Then, head out and clean up your park or neighborhood of choice.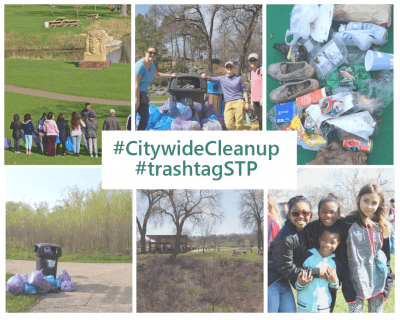 Cleanup Sites
New: Our Interactive Map! This map shows where our kickoff sites are, locations to cleanup along our strees, and places to leave your bags for pickup (not in parks). If cleaning up in our parks please leave your bags by a garbage can. 
Bruce Vento Nature Sanctuary (365 Commercial St): hosted by Lower Phalen Creek Project
Carty (People's) Park (705 Iglehart Ave): hosted by Summit-University Planning Council
Cherokee Picnic Pavilion (777 Cherokee Heights Blvd): hosted by Conservation Corps Minnesota & Iowa
Como Lakeside Pavilion (1360 N Lexington Pkwy): hosted by Speedway
Frogtown Park and Farm (662 N Victoria St): hosted by Frogtown Green
Hamline Park (1564 Lafond Ave): hosted by Friends of Hamline Park and Hamline Midway Coalition
Harriet Island  - 

Due to Flood we can no longer host a cleanup at Harriet Island **

Highland Picnic Pavilion (1200 Montreal Ave): hosted by College Nannies, Sitters and Tutors St. Paul, MN
Indian Mounds Picnic Pavilion (intersection of Earl St and Mounds Blvd): hosted by National Park Service and Mississippi Park Connection
Phalen Picnic Pavilion (1600 Phalen Dr): hosted by JCI St Paul
Swede Hollow Park (Intersection of Greenbrier St and Margaret St): hosted by Urban Roots
Trout Brook Nature Sanctuary (1200 Jackson St): hosted by North End Neighborhood Organization - District 6
Willow Reserve (1260 Arundel St): hosted by North End Neighborhood Organization - District 6
PLEASE NOTE: This event does not collect household items. For more information on where and when to drop off household items please refer to the Public Works Citywide Drop-Off page.
Join in on the #trashtagSTP challenge!
The #trashtag challenge is a new viral trend that challenges folks to take a before and after photo of an area they cleaned up and post it to social media using #trashtag. Let's get #trashtagSTP trending and show the world how much Saint Paul cares about our parks and neighborhoods! Register for the Citywide Spring Cleanup, then share your before and after photos using #trashtagSTP.
Thank you to all of our site hosts and sponsors!