Park Finder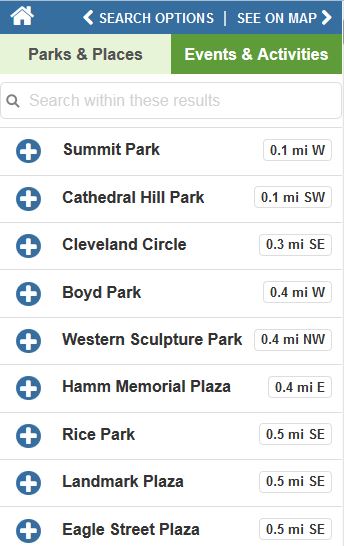 The Park Finder mobile-friendly website can be used find Saint Paul parks, recreation centers, activities, events, and park amenities near you.
How do I access Park Finder?
The Park Finder website can be accessed at stpaul.gov/parkfinder using any desktop or mobile device. For fast access on your mobile phone, save the Park Finder website to your home screen.
The website is location based, so be sure to turn on the GPS on your device or browser.
What can I use it for?
You can search for amenities such as barbeque grills, dog parks, fitness rooms, tennis courts, fishing sites, and more than fifty other park features. The site can also be used to find nearby festivals, recreation center events, open gym times, tot times, and popular activities like Music in the Parks, Movies in the Parks, and Fitness in the Parks.
Use the mobile website to search for a park, recreation center, or event by name, search for a specific amenity, or browse nearby parks and upcoming events on a map or in list form.
Feedback
We encourage you to leave feedback to help improve the new site by clicking the Feedback tab at the bottom of the mobile website homepage.
About Park Finder
Park Finder was funded by a grant from the Knight Foundation and developed in partnership with GreenInfo Network.
Other ways to search for a park, facility, or amenity: