Highland Park S'more Fun & Recreation for Preschoolers
About Highland Park S'more Fun
2016 No-School Day S'more Fun
Fun daily activities during no-school days, including art experiences, gym competitions, board games, library visits and S'more Fun! Breakfast and snacks are provided.
Age: Youth Ages 6-12yrs (Children must have completed kindergarten)
Cost: $35/Day
When: 7:00AM– 6:00PM
Dates:
2016 No-School Days
October 20th: Afton Corn Maze & Pumpkin Patch
October 21st: Swimming @Shoreview Waterpark
October 28th: Crayola Experience @MOA
November 18th: Movie @Highland Theater
December 22nd: Cinderella @Children's Theater
December 23rd: Swimming @Great River Waterpark
December 27th: Grandslam
December 28th: Skyzone
December 29th: Sledding/Snow Day @HPCC
December 30th: Bowling & Pizza @ Flaherty's
2017 No-School Days
Jan. 16th, 27th | Feb. 20th | Mar. 3rd, 24th | Apr. 3rd-7th, 14th
For additional information, tours, or to register for S'more Fun, contact Highland Park Community Center at 651-695-3706.
Summer S'more Fun
Highland Park S'more Fun is available Monday through Friday during the summer for youth who will be attending grades 1-7 in the fall. Fees include daily breakfasts, snacks and field trips.There is a $35 one time, non-refundable registration fee.
Daily activities include arts and crafts, magic shows, music concerts, theme days, athletic activities, games and more. Youth will attend weekly field trips, including Cascade Bay, bowling, Grand Slam, Trampoline Park, Como Zoo and Como Town, Highland Pool, Como Pool, MN Twins Game, mini golf & picnics and  so much more!
Age: Youth from 6-12yrs of age. Children must have completed kindergarten and may attend the summer before their 7th grade school year.
Dates: Check back for 2017 Dates
Time: Opens at 7:00 a.m. and closes at 6:00 p.m.
Cost: $175.00 a week or $35.00 a day.
For additional information, tours, or to register for S'more Fun, contact Highland Park Community Center at 651-695-3706.
About Highland Park Recreation for Preschoolers
The Highland Park Recreation for Preschools provides a warm, nurturing environment with the emotional support and encouragement needed to grow. The program runs on a school year calendar from September to May. We work on developing friendships, separating from parent(s), encouraging independence, learning classroom rules and routines, verbalizing thoughts and feelings, developing self discipline, building confidence in problem solving abilities, boosting self-esteem and of course all the while learning our alphabet, numbers, colors and shapes.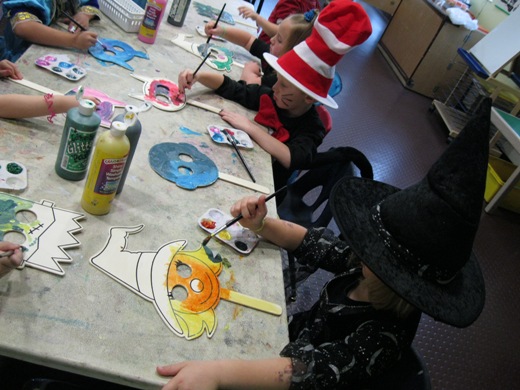 Our education emphasis is on thematic units and encourages a balance between child and teacher directed activities. Daily activities include: Free play time, games, story/circle time, craft projects, science experiments, and use of the gym and/or outdoor playground. This program is designed for the children to progress at their own pace.
Busy Bees
3 years of age before September 1, 2016
Tuesday, Wednesday & Thursday
9:00a.m. - 11:15a.m
$130.00 a month
Muddy Ducks
4 years of age before September 1, 2016
Mondays-Thursdays
12:30p.m.-3:30p.m.
$150.00 a month
Register for Recreation for Preschoolers
To register or for more information, contact:
Barb Biagi
Program Coordinator
barb.biagi@ci.stpaul.mn.us
Ph: 651-695-3761 or 651-695-3706
Financial Assistance
Financial Assistance is available to qualifying families through the child care sliding program. For more information, contact:
Ramsey County Think Small
Phone: 651-641-0305
info@thinksmall.org