Pilot Plastic Film Collection at Apartment Buildings
In 2018, the City of Saint Paul launched a two-month long pilot program focused specifically on collecting plastic bags and film. This pilot program aimed to discourage residents from placing plastic bags and film into single-sort recycling. 
Why Plastic Bags and Film Should Never Go into Your Regular Recycling
They get tangled in sorting machines
Higher cost of processing when lines are slowed or stopped to remove "tanglers"
Workers who must climb into machines to cut out "tanglers" are put in danger
How Did the Program Work?   

Participating residents collected plastic bags and film before placing them into a specially designated bin in their building's laundry room or waste area. 
The plastic film was then picked up on an on-call basis and transported to a plastic film recycling facility.
What Items Were Accepted?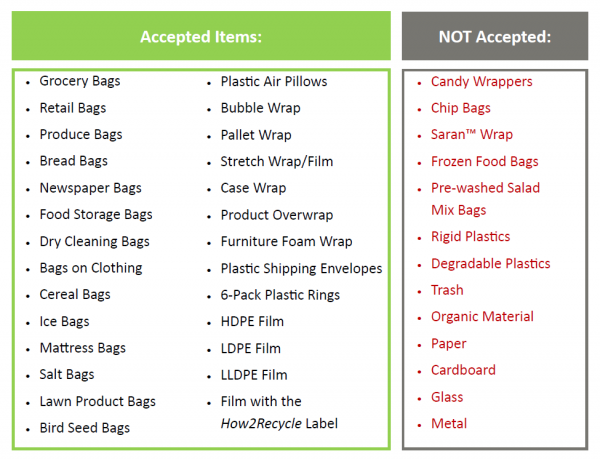 Residents Were Reminded:
Plastic must be clean and dry for recycling.
Remove stickers, labels and tape to the best of your ability.
Shake out crumbs and residue, and remove receipts. 
DO NOT place plastic bags, film or packaging in your building's recycling carts.
Print Materials:
Results of the Pilot Program:
77 lbs. of plastic bags, film and packaging were collected from three participating properties between June 4th, 2018 - August 3rd, 2018. After the pilot program ended, two of the properties chose to continue collecting material by coordinating resident volunteers to take on program operations. 310 units were reached through this pilot program.
Read Saint Paul Recycling's full report here:  Plastic Film Pilot Report
In order to educate more people about the problems with plastic bags and film in recycling, the City of Saint Paul created a weather resistant recycling cart decal (pictured below). The messaging is translated into four additional languages on the decal, which is freely available to apartment building property managers and owners. Visit This Page for more information. 

Want to participate? Here's what you can do:
The City encourages residents to first decrease their use of plastic bags. Keep reusable bags in the car and use them when grocery shopping instead of plastic bags. While they are not accepted in single-sort recycling, plastic bags can be taken to most retail stores for drop-off recycling. Find your closest drop-off location by visiting www.plasticfilmrecycling.org.