Residential Accessibility Parking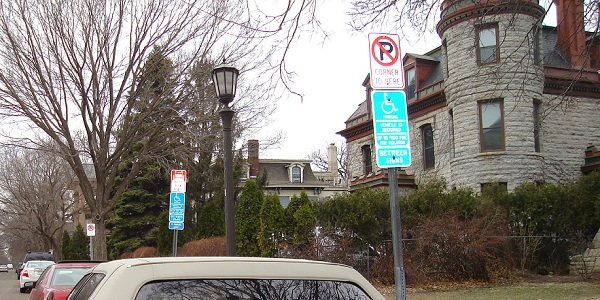 Disabled residents that have need for additional parking considerations in front of their home may apply to have a Residential Disability Parking Zone installed.
In order to qualify for a Residential Disability Parking Zone, the applicant must have a disability license plate or a long term or permanent disability parking certificate from the State of Minnesota. Long term certificates are for 13 months or more, permanent is for 6 years or more. The request must be based in an existing parking problem.
Zones will not be installed where: off-street parking is available and accessible to the disabled person, there is on-street parking generally available, or if the traffic division determines there already exists one or more zones nearby that is accessible to the disabled person.
In order to apply for a Residential Disability Parking Zone, complete the following application, and mail it to: Traffic Division 800 City Hall Annex 25 West 4th Street Saint Paul, MN 55102 Residential Disability Parking Zone Application 
Once your competed questionnaire is received, city staff will review your responses to ensure the requirements are met. After this review, you will be contacted by an employee to inform you of the success of your application, and to quote you the cost of installation. For additional information about Residential Disability Parking Zones, read our Frequently Asked Questions page or contact the Traffic & Lighting Division at 651-266-6200.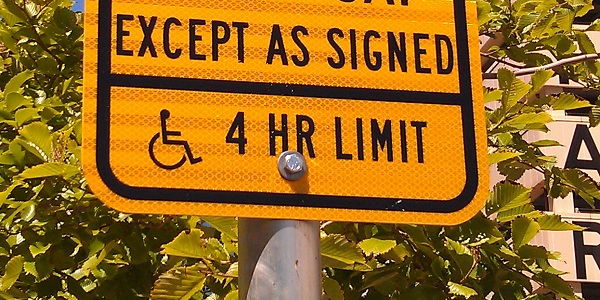 City code stipulates that "[a] person exercising their disabled parking privileges may park with a valid identifying disability permit or plate City of Saint Paul parking meter without the obligation to pay but must follow the time restrictions officially posted for the physically disabled." In layman's terms, a person parking with a valid disability certificate or plate typically can park for 4 hours at a City of Saint Paul parking meter without payment. This is not the case at meters with 30 minute time limits, where everyone is subject to the 30 minute maximum.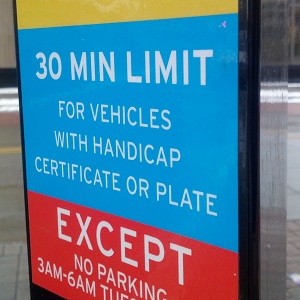 Check the single-space meter or space marker for the space you wish to park in for the posted disability time limit. If you reach the maximum time limit at a space, be it 4 hours or 30 minutes, you are not allowed to re-park within 2 blocks of your original space.
A vehicle that remains parked beyond the time limit or is re-parked within 2 blocks is subject to citation. Those who live or work downtown are encouraged to use ramps or lots when parking downtown for extended periods.
Metered parking in downtown Saint Paul is intended to encourage short-term use. Short-term parking is important to allow for quick stops to conduct business, get a quick meal, or shop at a local store without having to use an off-street ramp or lot.
For long-term parkers with disabilities, reduced monthly rates are available at City of Saint Paul owned parking ramps. Call 651-266-6200 for details. If a person has severely impaired mobility and they need to park on-street near their place of employment they may apply for a Special Needs Permit at half the cost of the monthly rate at the nearest ramp, lot or garage. For more information visit stpaul.gov/parking or call 651-266-6200.
Links