Speed Limits

Saint Paul and Minneapolis Announce New, Lower Speed Limits
On March 12, 2020, city officials from Saint Paul and Minneapolis, joined by several community advocates, gathered at Franklin Avenue and Emerald Street SE (a border street between Saint Paul and Minneapolis) to announce both cities will be lowering speeds on city-owned streets this year to support safer streets. Slower speeds on our streets make travel safer for everyone no matter how they get around. Lower traffic speeds also reduce the likelihood of a crash and make a crash less likely to lead to death or a life-changing injury.  A person hit at 35 mph is three times as likely to die as someone hit at 25 mph.
New speed limits will be 20 mph for local residential streets; 25 mph for larger, arterial and collector city-owned streets; and 30-plus mph for a few city-owned streets. Per Minnesota law, cities do not have authority to change speed limits on county and MnDOT (state) roads. Speed limits on these streets in Minneapolis and Saint Paul will not change. (See Street Ownership Map at the bottom of this page.) Always follow all posted speed limits.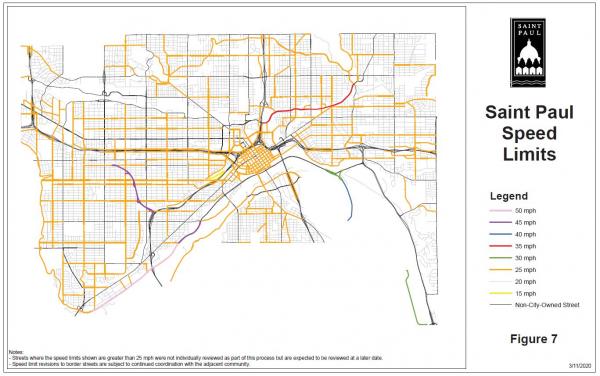 View Interactive Speed Limit Map of Saint Paul
August 2020 Update:
Saint Paul Public Works has completed installing or changing hundreds of speed limit signs on city-owned streets, changing many 30 mph streets to 25 mph. The new, lower 25 mph speed limits on individual streets are in effect as soon as they are signed. 
Starting in October, Saint Paul and Minneapolis will install "gateway signs" at entry points in both cities, indicating the citywide speed limit is 20 mph unless otherwise posted. Once all the gateway signs are installed, the 20 mph speed limit on local residential streets will be in effect. The cities will generally not be posting 20 mph signs on local residential streets. The cities expect the  installation to be completed by this fall.
Free Community "Tool Kit"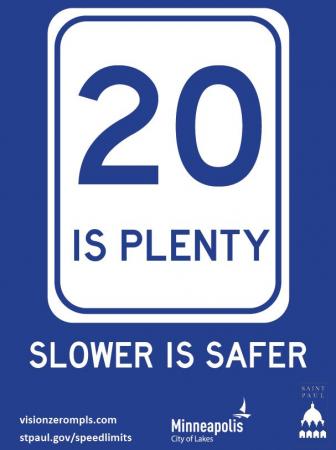 Slower is safer! Saint Paul and Minneapolis have teamed up to create a library of materials residents and community groups can use to help education friends, neighbors and visitors about the new lower speed limits on city-owned streets.
"20 is Plenty" Yard Signs  

Saint Paul residents can pick up yard signs (and stakes) at Saint Paul Public Works Traffic Operations Office (899 Dale Street) from 8 a.m.-3:30 p.m. Please wear a mask or face covering, or email publicworksinfo@ci.stpaul.mn.us to schedule a time to pick up signs at City Hall Annex (25 W. 4th Street, Suite 1500).
Yard signs are also available at some district council offices. If you would like to be a pick up site for yard signs, please email publicworksinfo@ci.stpaul.mn.us.

"20 is Plenty" Stickers (limited quantity) for community events

(email publicworksinfo@ci.stpaul.mn.us for more information)
"20 is Plenty" Stickers you can print from home (use Avery labels #5395)
Educational video (coming soon)
Informational flyer (coming soon)
Why is Saint Paul changing their speed limits?
As of August 1, 2019, Minnesota cities have the authority to set speed limits on streets they own. Any speed limit change must be based on a safety, engineering and traffic analysis. County and state roads are not included in this authority.
In October 2019, the Saint Paul City Council passed an ordinance to allow the City Engineer to set speed limits on city-owned streets. The City of Minneapolis and Saint Paul Public Works departments collaborated to analyze appropriate speed limits on city-owned streets. The speed limit changes follow individual studies done by the Cities of Saint Paul and Minneapolis Public Works departments to determine appropriate local speed limits as required by state statute.
The lower speed limits are in line with national trends toward lower urban speed limits to support safety. 
Technical Analysis
Saint Paul Public Works completed a technical evaluation to determine speed limits on city streets following new legislation enabling City governments to set the speed limits on roadways under their jurisdiction. The City's technical evaluation process achieved the following goals:
To support the City's traffic safety goal of zero traffic deaths and severe injuries
To improve safety and comfort for people of all abilities walking, bicycling, and taking transit
To support the movement of people and goods
To be consistent, understandable, reasonable, and appropriate for an urban context
This evaluation included an examination of local policies and plans, national guidance and peer city experiences, relevant safety studies and data, and existing speeds. The completed technical evaluation is summarized in the Saint Paul Speed Limit Evaluation.
Additional documents and resources