Traffic & Lighting
Mission
Our mission is to ensure safe and efficient movement of people and goods by providing traffic, signal, and lighting engineering services through design, studies, construction and inspection.
Street Lighting
Citywide lighting is provided for the safe operation of roads and sidewalks in Saint Paul and the Traffic & Lighting Division is responsible for light installation and maintenance on streets, bridges, paths and trails in the city. Our lighting system includes more than 37,000 light fixtures on 32,000 light poles.
Alley lights are installed and maintained by Xcel Energy at the request of adjacent property owners. Residents should contact Xcel Energy directly for installation and maintenance of alley lights.
Report a Broken Street Light
To report street lights, traffic signals or traffic signs in need of repair, call 651-266-9777. For after hours emergencies such as a light pole knocked down call 651-266-9700.
Report a Broken Alley Lights
Alley lights are installed and maintained by Xcel Energy at the request of adjacent property owners. It is up to the adjacent owners to arrange for alley lights directly with Xcel Energy and to pay the cost of installation, maintenance and operation of alley lights. For alley light problems or installation call Xcel Energy at 800-960-6235.
Street Maintenance Service Program 
The 2018 estimates for lighting (streets only) is $4.3 million. Approximately $627,000 is funded by the city's general fund. The rest is funded by assessment fees. The 2019 billed rate is $0.76 per foot. 
The city also has "above standard" lighting in various areas across the city. The rates for the different lighting districts will vary due to several factors, including the number of lights in the district, routine maintenance, painting, light bulb replacement, light pole replacements and total electricity costs.
The 2018 Billed Rates (per foot) for Above Standard Lighting by district is: 
Lowertown ($2.96)
Selby/Western ($1.54)
Ford/Cleveland ($0.38)
Grand East I ($1.63)
Grand - West (1.25)
Grand - East II ($1.75)
North Wabasha ($1.86)
Smith Avenue ($1.24)
Selby/Dale ($2.12)
Concord Phase I ($1.96)
River Park Plaza ($3.21)
Selby No. 2 ($0.64)
Wabasha/St. Peter ($1.07)
Snelling/Randolph ($1.21)
East 7th/Payne/Minnehaha/Men ($1.05)
CHCH (City Hall) ($8.51)
United/Children's ($0.49)
Como/Snelling ($1.66)
Dale/University/Minnehaha/Hatch ($0.86)
Hamline University ($0.69)
Downtown Acorns ($0.97)
West 7th/Munster-Madison ($1.27)
Suburban/WB Ruth ($0.48)
White Bear/Beech-Reaney ($0.85)
Rice/Sycamore-Rose ($1.39)
White Bear/Hoyt-Larpenteur ($1.09)
Payne/Whitall-Orange ($0.35)
Marshall/Cleveland-Wilder ($1.56)
University/Emerald-Rice ($0.91)
Snelling/Hague-Taylor ($0.79)
Learn more about the City of Saint Paul's Street Maintenance Service Program and property owner's fees for lighting, street sweeping, seal coating and/or mill and overlay projects.
Traffic Calming & Safety
Traffic calming uses design and signage to improve safety for motorists, pedestrians and cyclists. The City of Saint Paul has implemented several creative projects implementing traffic calming, including:
pavement painting and markings
bump outs at intersections
speed bumps
traffic circles
visual speed limit monitoring
pedestrian refuges in the middle of wider streets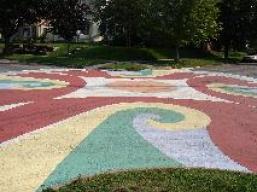 Paint the Pavement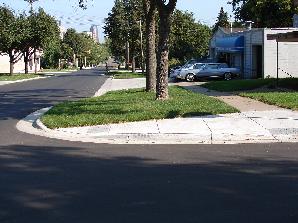 Bump Out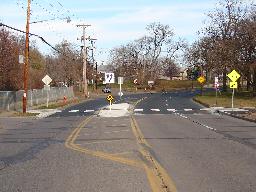 Pedestrian Refuge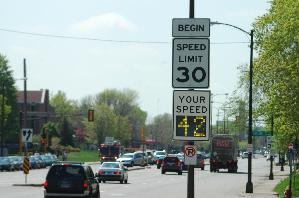 Speed Limit Monitor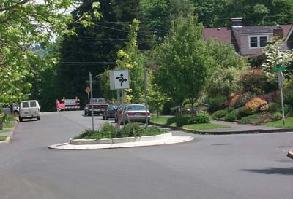 Traffic Circle
Traffic calming is generally installed as part of larger improvement projects but may also be considered to address specific safety problems on a case by case basis.
Maps & Records
Custom Print Maps
We will print maps or create and print a custom map for a nominal charge. Please check our price list for more details about the cost of printing and creation of custom maps.
Survey Office
The City Surveyor's office makes a great deal of information available that will be useful when conducting a property survey. This information may be viewed on the Saint Paul Surveyor's page.
Public Records
A Variety of maps, plans and records of Saint Paul are available for viewing in the Traffic & Lighting Division. These records include:
historic street maps,
aerial photos,
street name changes,
construction plans,
plat books,
surveys
Two other sources for records are the Ramsey County Historical Society and the Minnesota Historical Society.
Please note that some of the map files are quite large and may take a few minutes to download.
Other PDF Maps
Bicycle Maps
To Report a problem using the above maps, please send an e-mail and let us know the specific problem.
See Also
Traffic Signals
There are over 375 signalized intersections in Saint Paul. Traffic signals are designed to ensure the safe and efficient movement of roadway traffic and pedestrians. Signal equipment and operation will vary from intersection to intersection depending on need.
Primary types include pre-timed signals that operate based on well established and predictable traffic patterns or signals which detect traffic approach and operate based on current conditions. In many cases multiple traffic signals are linked together and operate in a coordinated manner to enhance safe and efficient movement along a particular route or within a given area.
Traffic Signal Repairs
To report a signal malfunction or other needed repairs to traffic signals, street lights or traffic signs please call 651-266-9777. For after hours emergencies such as a traffic signal not operating or traffic signal knocked down please call 651-266 -9700.
Pedestrian Crossing Timing & Buttons Pedestrian Crossings are an important part of the city's traffic signal system. Most traffic signals in the city include pedestrian walk signalization. There are a variety of methods used to ensure safe pedestrian crossing at signalized intersections.
Intelligent Transportation Systems
Computerized traffic control and information systems are used to control and coordinate many traffic signals in the city. View more information regarding Intelligent Transportation Systems.
Play Gridlock Buster
Gridlock Buster is an online traffic control game based on tools and methods that actual traffic control engineers use in their everyday work. It's a great opportunity to gain a better understanding of what is involved in traffic management for Saint Paul.
Speed Limits
As of August 1, 2019, Minnesota cities have the authority to set speed limits on streets they own. Any speed limit change must be based on a safety, engineering and traffic analysis. County and state roads are not included in this authority. The City of Minneapolis and Saint Paul Public Works departments are collaborating to analyze appropriate speed limits on city-owned streets. Both cities anticipate lowering limits on streets under the cities' jurisdiction.
Slower speeds on our streets make travel safer for everyone no matter how they get around. Lower traffic speeds reduce the likelihood of a crash and make a crash less likely to lead to death or a life-changing injury. Minneapolis and Saint Paul Public Works are each doing detailed technical analysis to determine appropriate speed limits for city-owned streets. Those studies are expected to be completed first quarter 2020. The traffic and engineering studies will include the cities' respective plans for speed limits on city-owned streets. Implementation of new speed limits is expected to begin in the spring of 2020.