Walking Saint Paul
Saint Paul Pedestrian Plan
The City of Saint Paul is creating our first-ever plan to support safe walking in our city. The plan will address citywide walking needs like connecting our sidewalk system, safer ways to cross street, and education and enforcement programs to support safe walking.

Walk with Mayor Carter - Photo Contest
Congratulations to our winner! "When we learned it was a school snow day we bundled up and walked to Swede Hollow Cafe for breakfast. Afterwards, we stopped to play in snowbanks, roll down hills, and make snow angels. The sun came out and it was a special treat to play outside on a winter weekday with my daughter! As the winner of our contest, resident Kelly Vlach and her family joined Mayor Carter on a walk in Bruce Vento. Thanks to all who submitted photos!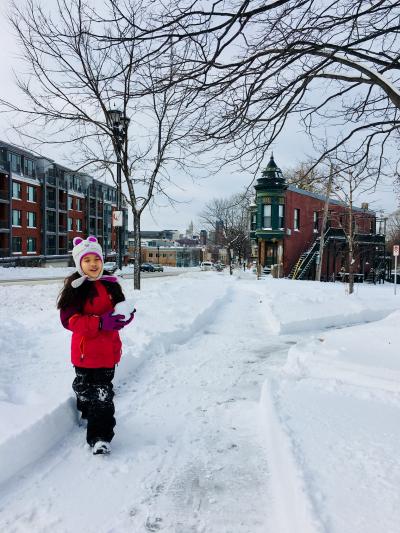 Read More
Steering Committee
A steering committee is guiding the pedestrian plan's development. Meeting materials will be posted as they are available.
Steering Committee 1 – January 31, 2018
Steering Committee 2 – March 6, 2018
Steering Committee 3 – April 13, 2018
Stop for Me
This year, as part of Saint Paul's annual "Stop For Me" pedestrian safety campaign, the City has partnered with the Minnesota Department of Transportation and University of Minnesota in a study to build awareness of pedestrian safety and change motorists' behavior. Research shows that only three in ten drivers in Saint Paul stop for people crossing the streets at non-signaled crosswalks.   
It is Minnesota law that drivers must stop for pedestrians in crosswalks. To improve driver awareness and stopping for pedestrians in crosswalks, this year's campaign will focus on prevention of multi-threat crashes throughout Saint Paul. Beginning April 30, 2018, the City and University of Minnesota researchers will be monitoring several crosswalks in Saint Paul for driver compliance throughout the summer.
Learn more:
https://www.stpaul.gov/news/saint-pauls-2018-stop-me-pedestrian-safety-campaign-focuses-multi-threat-crashes
Related links:
Pedestrian and Bike Crash Data
Safe Routes to School
Mayor's Advisory Committee - People with Disabilities