Who We Are
DSI seeks to continuously improve coordination, efficiencies, and customer service through our eight business lines:
Animal Control
Communications
Construction Services
Customer Services
Fire Safety
Licensing and Skyway system management
Property Code Enforcement
Zoning and Site Plan Review
---
Vision
To be the leader in creating the safest, healthiest, most livable, and vibrant City for all.
Mission
To preserve and improve the quality of life in Saint Paul by protecting and promoting public health and safety for all.
Values
Serve all customers with respect and dignity. 
Exemplify public service. 

Embrace the diversity of our City by valuing different viewpoints, expertise, and cultures. 

Act with integrity and professionalism in all interactions with our customers and communities. 
---
Director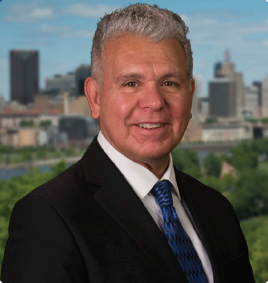 Director Ricardo X. Cervantes is a regulatory public service executive with more than 25 years of combined experience with the City of Saint Paul and the City of Minneapolis. 
He was first appointed in 2010 and reappointed in 2018 as the Director of Saint Paul's Department of Safety and Inspections (DSI). DSI is a proactive, multi-faceted safety and inspections organization that advances and maintains a thriving Saint Paul for all. 
Ricardo provides strong and effective leadership for DSI with its eight divisions and more than 150 employees. He is regularly tapped to work on complex issues facing the City, including racial equity and Open for Business initiatives.  Recently, he also has worked closely with the Mayor's Office on the City's approach to our unsheltered homeless residents.
Ricardo is a native Saint Paulite and grew up on the City's East Side. He is a graduate of Harding High School and Macalester College in Saint Paul. He enjoys volunteering as the City's Coordinator for Habitat for Humanity build, serving meals at Dorothy Day and Hope for the Journey Home Homeless shelters, and participating in the Refugee Resettlement Initiative through his church.
Deputy Director
Dan Niziolek
---
DSI's Commitment to Equity
DSI is committed to continually analyzing City services and programs to identify the potential for race-based disparities then seeking solutions to address any disparities. This includes engaging the community for input and collaboration, as well as striving to make our workforce reflect the demographics of our City. 
Some of our initiatives are listed here:
DSI has engaged the community in three equity impact assessments:  Reviewing the Fire Inspections Certificate of Occupancy program, Code Enforcement Abatement notices, and Business License applications process.  The department strives to analyze one program per year. You may read the Equity Impact reports related to each of these efforts here:
DSI created an Equity Analysis Framework to apply an equity lens when making decisions or reviewing existing processes and policies related to City programs. To view the framework, click here.
DSI collects Sewer Availability Charges (SAC) on behalf of the Metropolitan Council. These charges cover the sanitary sewer usage a new business or building generates, which DSI collects and then transfers to the Metropolitan Council after a building permit is issued. Our department offers research services to every customer who receives a SAC determination from the Metropolitan Council. This service ensures that new businesses only pay those charges for which they are actually responsible. The department estimates this service provides more than $300,000 in cost savings to new Saint Paul businesses each year. 
Of available DSI dollars in 2020, $669,848.49, $338,694.78 or 51 percent was spent on City CERT Program vendors (Central Certification program, a small business program recognized by the City and Ramsey County); of that $205,403.73 was spent on Women Business Enterprises ( 60.65 percent).
The department moved from 10.9 percent people of color represented in its workforce in 2014 to 21.4 percent in 2021. DSI's goal is 48 percent.  We moved from 11 percent women our department's workforce to 33 percent in 2021. DSI's goal is 51 percent.
---
Habitat for Humanity
Under DSI Director Ricardo Cervantes' leadership, the department coordinates the City's volunteer efforts with Twin Cities Habitat for Humanity, engaging City departments, the Office of the Mayor, and City Council in helping to build a "Saint Paul for all."
Each year approximately:
110 City staff participate
16 different departments are represented
825 hours are invested as staff use a day of their personal vacation time
Saint Paul has built 338 houses in neighborhoods throughout the city since 1985. To learn more about Twin Cities Habitat for Humanity's projects building, repairing, and selling homes with affordable mortgages visit its website here.
---
Annual Reports
Following are links to DSI's Annual Reports: